We know the lifetime of an individual conversation is short and often ends with an article. So, in order to increase engagement beyond a single article we enhanced our Conversation product to combine content and quality conversations for a social experience that helps drive deeper relationships with your audience. OpenWeb Community Feed brings together similar conversations from across your site and presents relevant, topic-based content to keep users engaged. This significantly increases users' time on your site and maximizes the revenue generated from your community. 
Key highlights
Real-time conversations with social-feed-like functionality
Journalists, editors, and users can create topical posts that live outside of individual articles, allowing conversations to live and thrive longer. 
Customized moderation capabilities and rigorous standards ensure the highest quality dialogue between users and journalists. 
Advanced recommendation algorithms surface engagement-driven, trending, and relevant content into one seamless social experience. 
Hashtags allow users to easily find similar articles and popular conversations.
Built with speed and performance in mind, the slick platform allows users to easily navigate between content and conversations.
Explore: Drive user retention with immersive social experiences
The new 'Explore' feature nested within Community Feed creates an immersive content experience by showcasing top comments from the article, additional articles based on community engagement, and topic relevance, along with posts written by top users and journalists. All of this is designed to ignite micro conversations and greater engagement.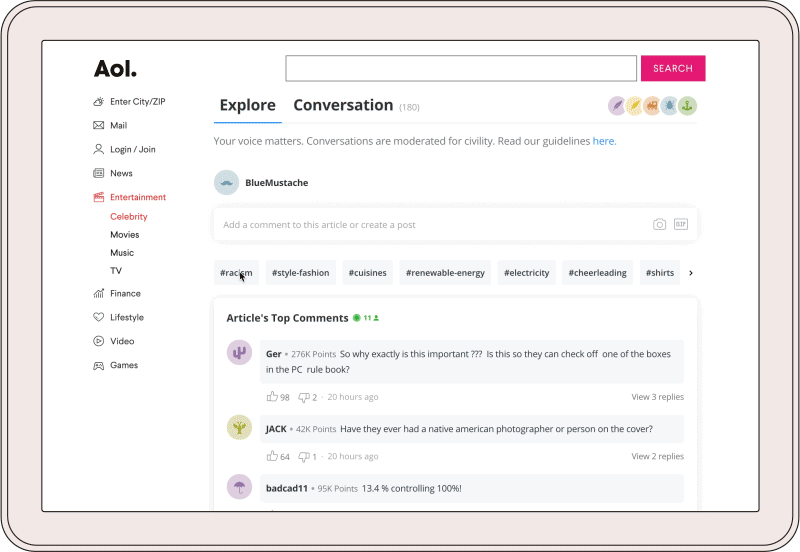 Posts: Increase the longevity of conversations and overall community engagement
People have an inherent need to be heard and to share their opinions about the world around them. In our recent user survey, we found that a significant number of users express their desire to keep their contributions relevant and evergreen and appreciate an opportunity to converse with experts such as journalists or editors to form a deeper bond with the publisher.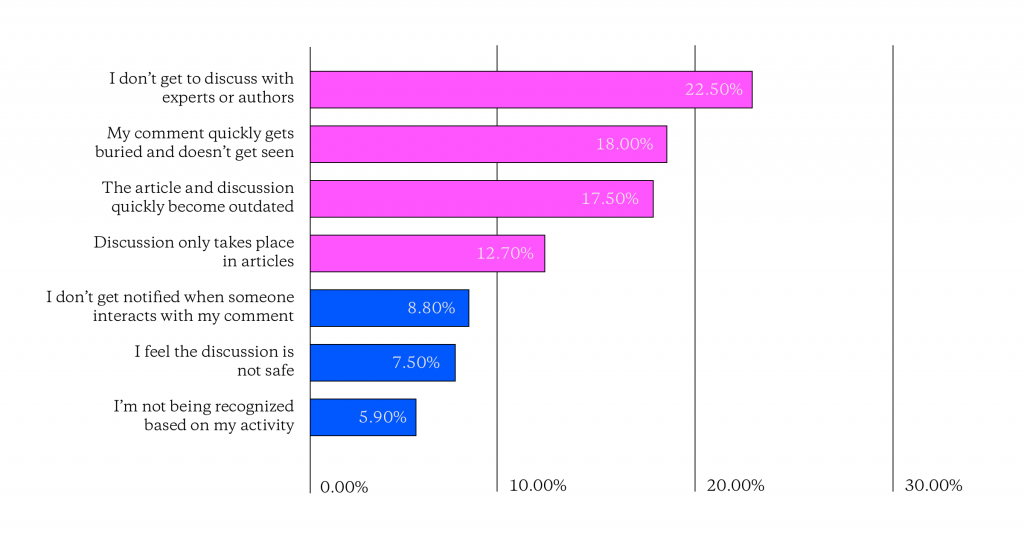 With our new Posts feature, publishers can now allow their journalists and top users to create conversations without relying on the creation of new articles. Posts create an exciting opportunity for journalists and editors to bring back their conversations from social media. These experts can now start topic-level conversations on the publisher site to converse directly with the users — increasing the longevity of conversations.  Also, rest assured, our best-in-class moderation tools provide complete control over the quality of posts and help keep the conversation civil.
Posts can appear across the site (not only on specific articles) based on the topics discussed gaining a much larger reach. Recognized top users can also start meaningful discussions through posts driving passive users to engage and connect on similar interests, outside of publisher content. Each post requires a title, minimum number of characters, and hashtags.
Articles: Recommend content based on community behavior and user interests
Our content recommendation algorithm promotes the recirculation of editorial content in real-time and does not move users to other sites. With the new Explore, we've taken our vast experience with building recommendation engines for the open web and introduces a new, topical recommendation engine that uses everything we know of users' interests in a given time, and proposes articles and conversations that are most likely to draw real engagement.
43% of commenters read similar-topic articles in the same session
Topic-based conversations have allowed social media platforms to dominate online discourse and now you get the same functionality right on your site. A smarter recommendation of your content enhances the conversation based on topics, independent of a single article. And unlike traditional social media, commenters only earn reach and exposure based on the quality of their contributions and by how the community values their input, increasing overall brand safety.
Optimized Monetization: Short-term revenue to long-term value
In today's landscape we need to be able to convert casual visitors to loyal users, but also meet the short-term revenue goals. It's about understanding which users will convert, and which won't, and offer different, custom experiences for these two audiences. For the audience who's less likely to convert, we use our monetization capabilities to create new, viewable inventory in a brand-safe environment. No more misleading, spammy 'sponsored content' – ads are clearly labeled for full transparency, without being intrusive to user experience and degrading editorial content. 
By building a user-focused ecosystem, we drive deeper relationships with your audience and support your strategic business needs. Publishers have the ability to implement this product as an infinite scroll opening up a premium, brand-safe advertising real-estate. In its infinite-scroll form, Community Feed increases the exposure to ads by ~3X times. Community Feed also creates multiple user touchpoints to turn meaningful interactions into actionable data insights. So, not only is it your community, it's your data too.