Bring an immersive, social experience onto your site.

OpenWeb OS Experience
Create a truly social experience that drives results. OpenWebOSExperience helps you engage your readers and build community—whichbrings more registrations, return visits, valuable first-party data,and more. These engagement funnels are a key first step to owning youraudience data and future-proofing your business.
21.23%
Lift in time on sites
12.23%
avg. safety by view rate
Let's take a look at the core features of OpenWebOS

Experience.
The backbone of OpenWebOS.
We utilize the latest AI and
MachineLearning-powered
moderation to ensure high quality
conversations.Quality keeps
users engaged, driving time-on-site, retention, andmuch
more. Fully white labeled,
Conversation seamlessly
integratesacross web, mobile,
AMP environments, and in-app
throughnative SDK support.
Learn more about our Hybrid Moderation Engine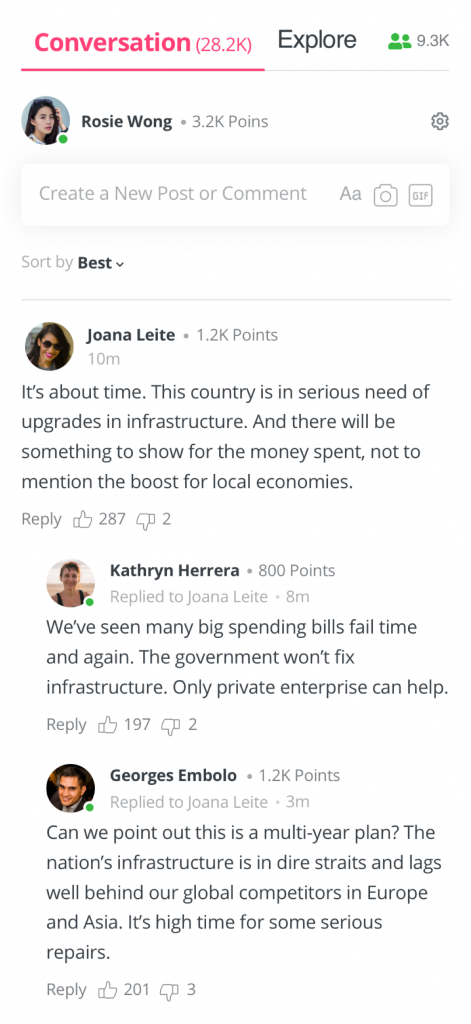 Provide live coverage of major
events, set up conversationswith
experts, and create lasting
connections betweenjournalists
and readers with Live Blog,
Digital Events, AMA(Ask Me
Anything), Community Questions,
and more.
Download our Editorial Engagement Toolkit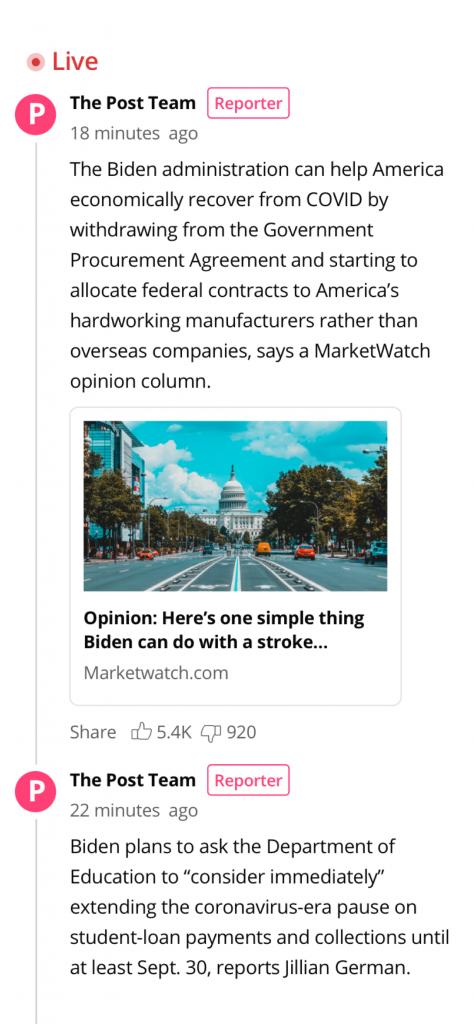 Get instant feedback and rich
first-party data from your
communityby engaging users
directly on the issues that matter
tothem. From community
questions to polls and more,
keep upwith the pulse your
community with our fully
customizableReactions.
Learn more about
Reactions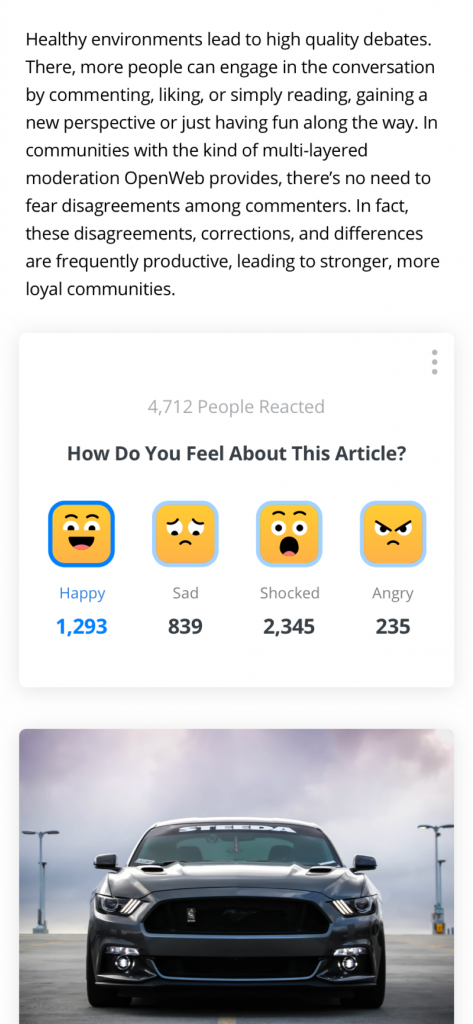 Increase pageviews and time
spent several times over with
contentrecommendations that
reflect what's resonating most
withyour readers.
Learn more about PitC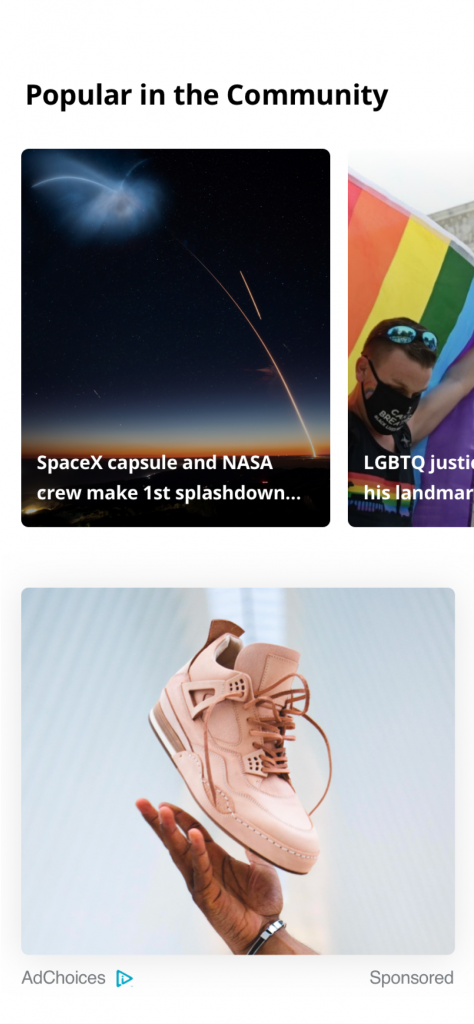 Personalized
Notifications
Personalize your users' connection to the community. OpenWebOS features email and an on-site notification system that drive constant reengagement and deepen your relationship with your users
Learn more about Personalized Experiences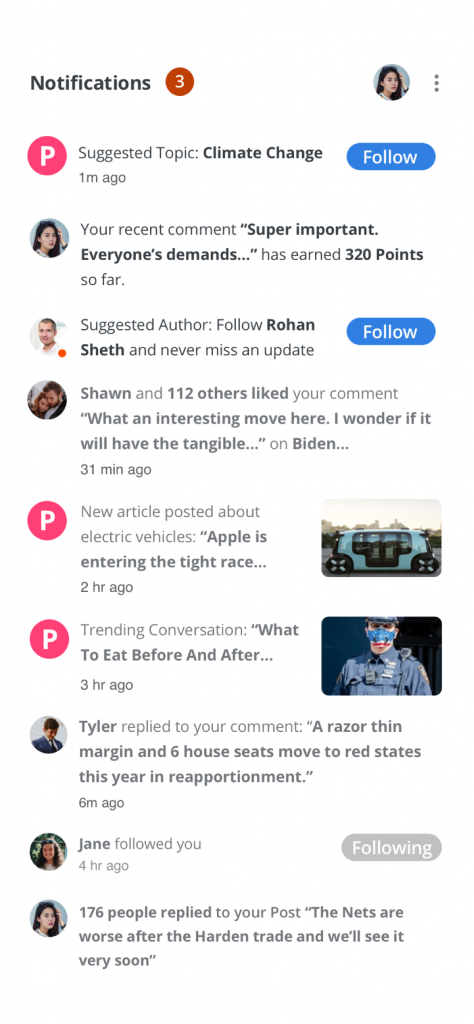 Products, services, opinions – whatever you're gathering, OpenWebOS' social reviews have everything you need for a seamless user review experience, all optimized for search.
Learn more about
Reviews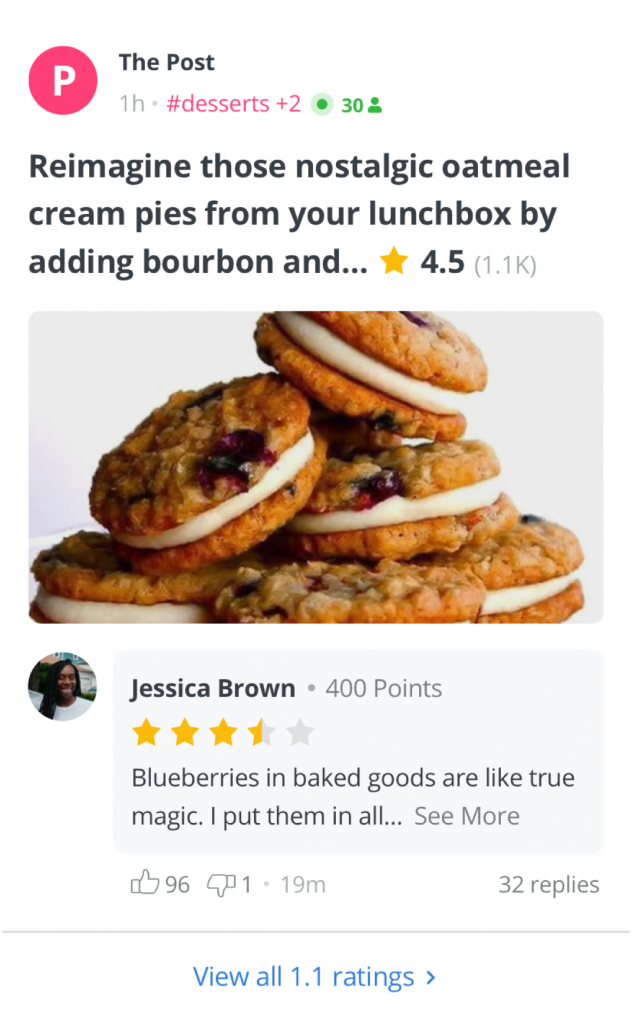 The Experience is just the start.
Explore these resources from the OpenWeb team on registration, SSO,Community Spotlight, user profiles, and more.
Improve your users'
experience–now.
These resources from the team walk through how you can create engaging on-site experiences that build a community through your content.
Quality is your key to sustainable revenue
Effective Moderation
Proven, AI- and Machine Learning-powered moderation.
Quality Conversations
High-quality, civil discussions that attract users and create value.
Community
Increased retention, registrations, time on site, and pages per session.
Sustainability
OpenWeb provides sustainable revenue through context-relevant, high-value advertising at scale.
See OpenWeb's impact on your business
Let's have a conversation.