Release Notes
OpenWeb Release Notes: Jan-Feb 2022
New Features
Conversation
Conversation can now be added to a React single-page application.
A JavaScript function can now be used to display the number of user comments posted to a Conversation.
Single sign-on support has been added for the MyLo user management system.

To help reduce login friction and improve successful conversion rates, non-SSO partners can now log in again using the same method previously used. 
Registration
Single sign-on support has been added for the MyLo user management system.
To help reduce login friction and improve successful conversion rates, non-SSO partners can now log in again using the same method previously used.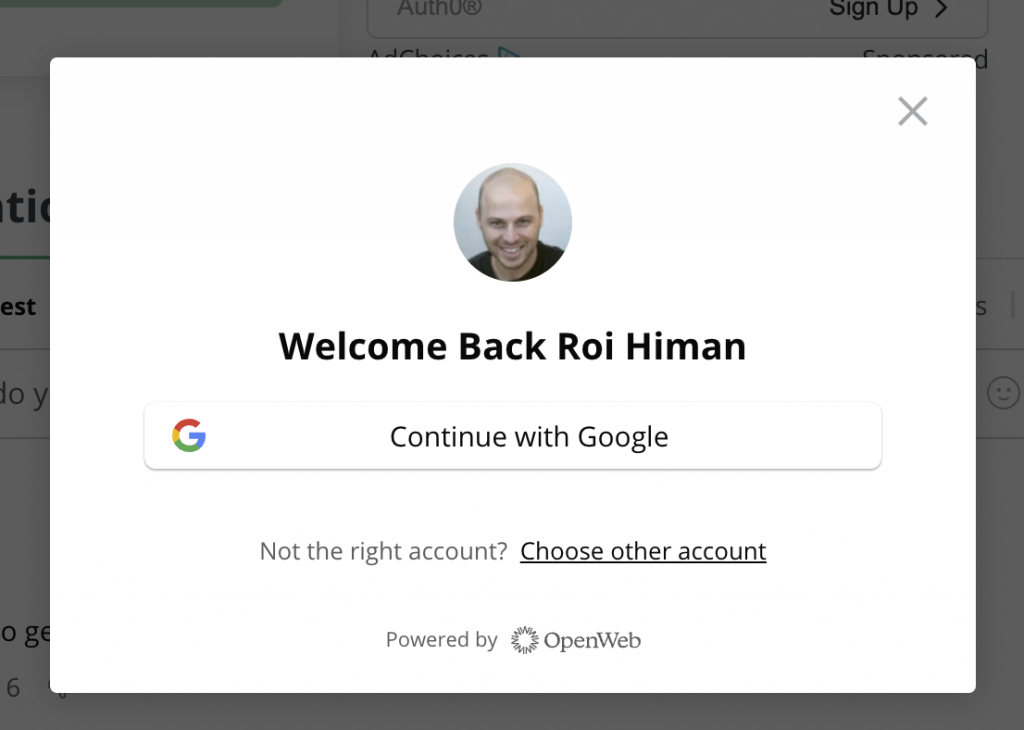 SDK
(Android | iOS) Supports editing comments.
(Android | iOS) Can see the number of viewers active in the conversation in the header.
(Android | iOS) "Post" button style customization available.
(Android | iOS) Now supports adding an image to a comment.
(iOS) Supports display the staff member badges in the conversion UI.
Enhancements
Conversation
Conversation features have been improved for accessibility:

Accessibility-compliant names have been added for all menu elements.
A tab navigation has been added to the menu component.
When a dialog is closed, the focus returns to the element that was in focus before the dialog was opened.
The play button in video elements has been updated to receive keyboard focus.
Blocking users will no longer automatically block all user comments that have been approved.
Unless an avatar has been selected by a user or provided through a publisher implementation, the avatar will default to the initials of the user.
For a single-page application implementation, a publisher can set dark mode by article using the data-theme attribute in the Conversation embed code.
To maintain a simple user interface, large numbers use the letter K to denote 1000,  for example 12345 becomes 12.3K.
A comment that exceeds 300 characters is truncated by default and a Read More link can be clicked to view the entire comment. This default is customizable.
The Load more updates button has been replaced with an infinite scroll for Live Blog. 
The Lives In field in a user's profile can be disabled.
The design of the Conversation Read Article button has been updated to align with branding.
For AMP implementations, the height of Conversation has been adjusted to minimize whitespace.
For non-SSO partners, an endpoint has been exposed to retrieve user information for the Author Badge. See our developers hub for more information.
A focus lock has been added to each modal.
SDK
(Android) Added support for Android 12 (Snow Cone).
(Android |  iOS) Redesigned the guest nickname component in the comment creation screen.
(Android |  iOS) Upgraded Giphy dependency to version 2.1.12.
Admin Panel
You can now specify registration login options.
Popular in the Community (PitC)
The Top Comment indicator and upvote button can now be hidden from the product's panel.
A sticky ad can now be displayed in PitC for improved viewability and revenue 
To enhance performance, animation now stops when PitC is out of view.  
Topic Tracker
Since single-page applications contain several article URLs, support for an embed-level post-url declaration has been added.
Design elements of Topic Tracker have been improved to create a native look and feel with a page:

The margins and padding of Topic Tracker have been updated for both mid-article and sidebar implementations. 
For sidebar implementations, the external border has been removed. 

Topic names now appear in title case.
To reduce layout shifting, the initial load performance has been improved. 
Minor button improvements have been made to support accessibility. 
Registration
To improve the accessibility of Sign In and Join modals, an underline hover effect for links and support for keyboard navigation have been added
Bug Fixes
Conversation
Conversation page opens without issue.
Users can enter text into the search bar for GIFs and emojis.
Users remain logged in after using social signin.
Duplicate usernames can no longer be created.
Design elements of the Submit a Report modal have been corrected:

The margin between the title and the description has been reduced.
Radio buttons are left-justified.
Radio buttons load only as circles.

Share modal launches from Conversation page.
Non-saved fields remain after uploading a profile photo in the user profile.
Clicking Share or Report no longer causes a page shift.
Details from a previous user's session do not appear.
Users can select a topic from the feedback modal dropdown menu.
Share option appears for all new comments.
(Android/iOS) Conversation loads with the correct page size.
(iOS) Users can scroll through the GIF list.
(iOS) Feedback icons have the correct color applied.
SDK
Fixed manifest conflicting provider (when installing multiple apps with our SDK) - Android
Fixed the option to add image to a comment - Android 
Admin Panel
Users can switch between newsrooms on the same network.
All user details are fully viewable.
Search capabilities have been improved.
Conversation appears when Show Conversation has been clicked.
Notifications
Timestamp translations display for all supported languages.
Dark mode support has been added for topic notifications icons. 
Notification marker only appears for unread notifications.
(Android/iOS) Article thumbnails are right-justified.
(iOS) Users can scroll through all menus. 
Registration
When switching between join and login modes, the email field is not in focus.
Sign Up or Log In modals load without any page shifts.
Excess padding has been removed from the Set Your New Password and Check your Email modals. 
Topic Tracker
Topic Tracker loads immediately when embedded above the fold.
Topic Tracker loads only when fetching topics is successful.
Article topics are no longer cut off in narrow-width containers or in Safari.
Spacing has been corrected to enable displaying more topics.
Non-ASCII characters are now supported in topic names. 
When no topics are tracked, the Manage Topics panel loads with a call-to-action message.
Onboarding notification messages for following a topic no longer appear when a user unfollows a topic from a new device
---
November 1 - December 31, 2021
Happy New Year from everyone here at OpenWeb! Our team has been busy making enhancements to our product line. Check out what's new below.
New Features
Author Badges 
Authors of articles can now be easily identified with our new Author Badges.

Topic Tracker 
You can now report the relevant post ID directly from the product. Simply embed a div tag instead of using the launcher for single-page applications (SPAs) and other implementations with multiple post IDs on the same page.
We also added Topic Tracker support for AMP implementations.
Enhancements 
Conversation
To help make conversations easier to read and navigate, threaded lines now link comments and replies.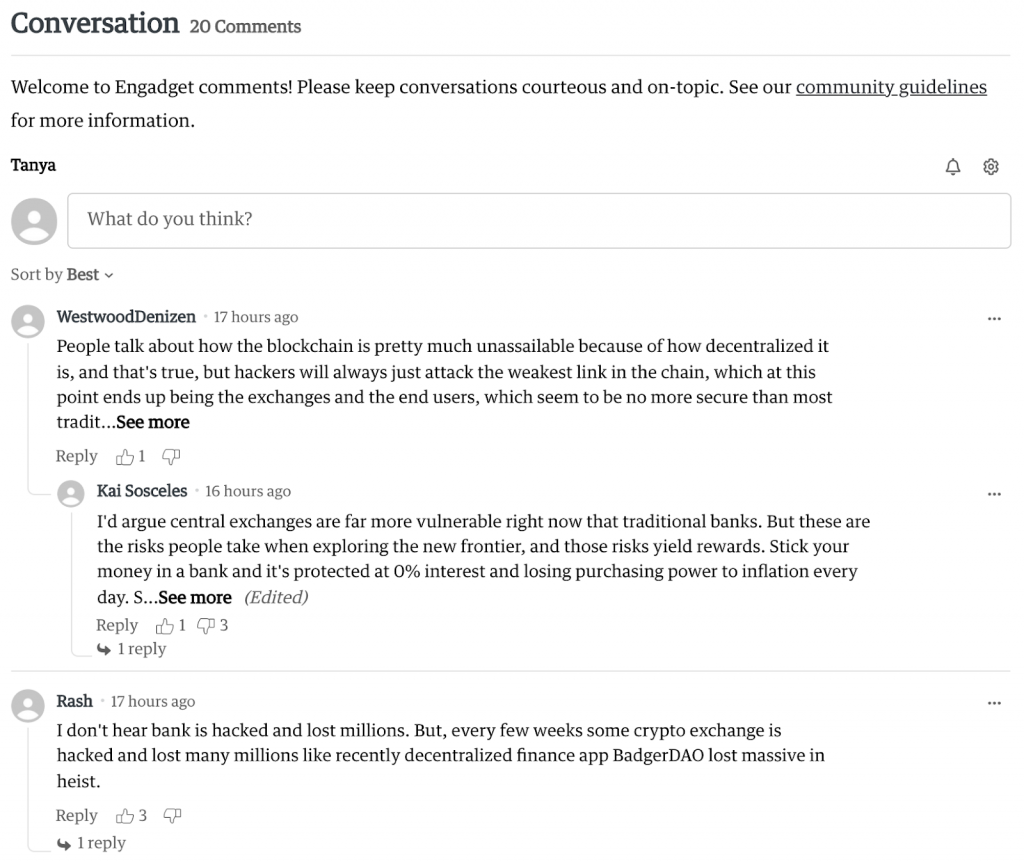 When submitting a report, a user can specify the category of the violation. Moderators can view all reported categories in the moderation panel.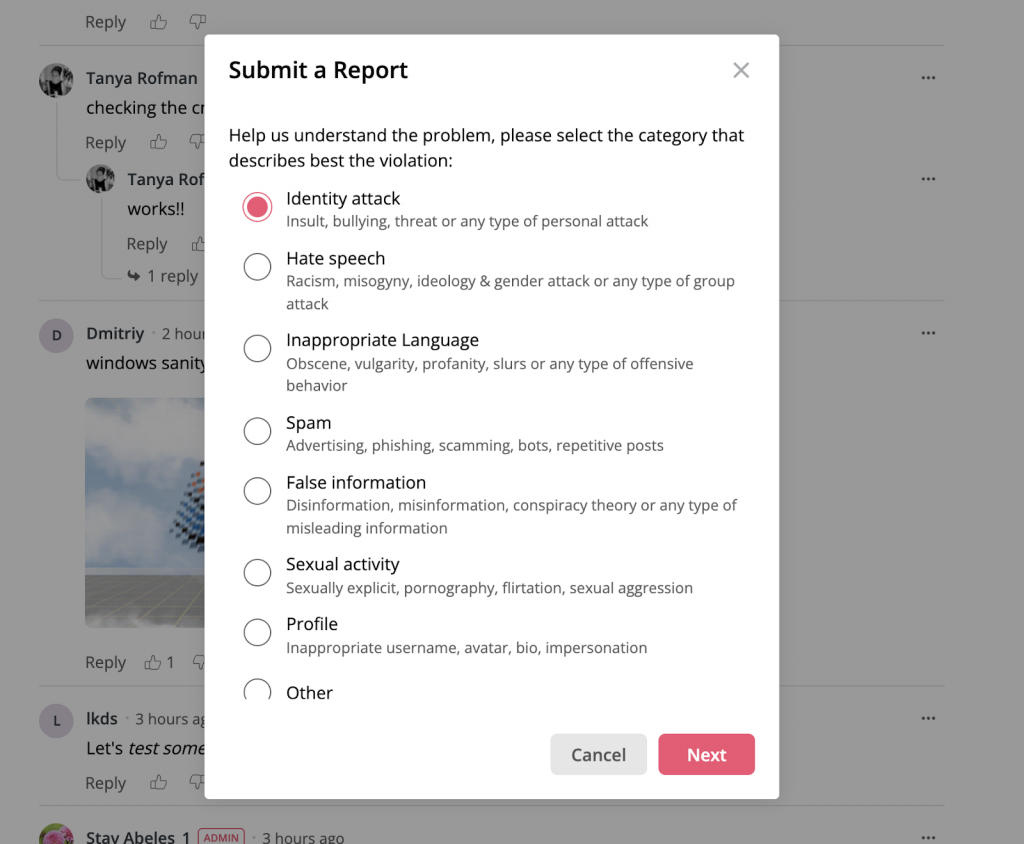 You can now customize the Conversation theme when multiple Conversations are present on a single article or page.
A new loader has been added to improve the Conversation experience. Check out the following example to see the update. Current: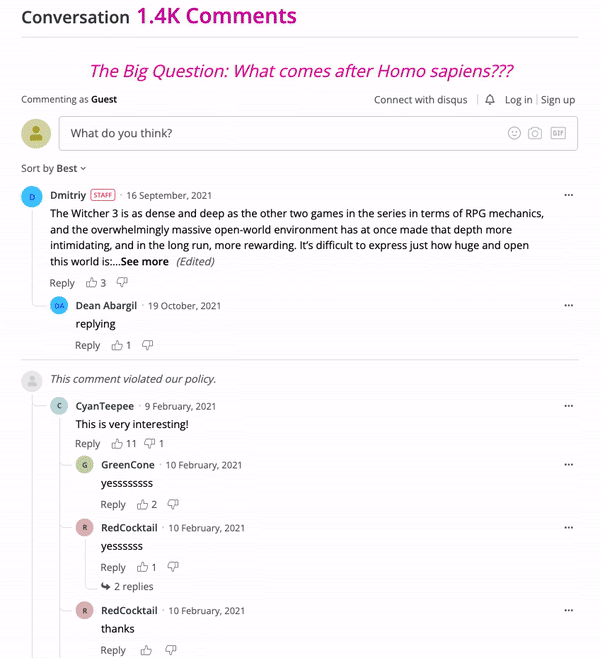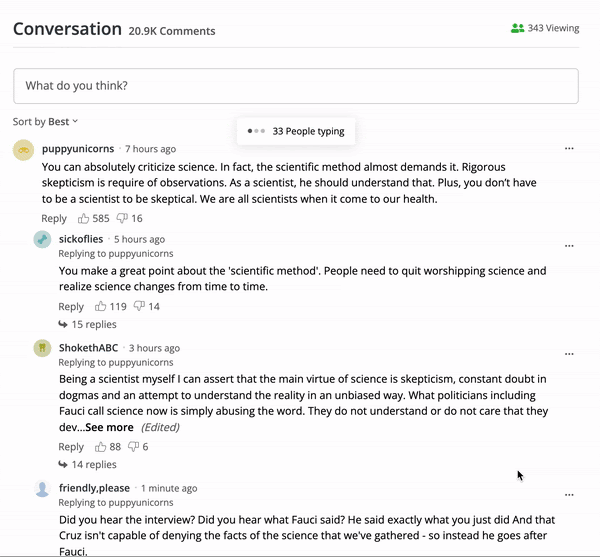 Topic Tracker
When visiting a page with topics that the user already follows, those topics will appear first in the Topic Tracker widget.
Reactions
To make Reactions feel like an organic part of your site, the semi-transparent background has been removed from the Reactions options.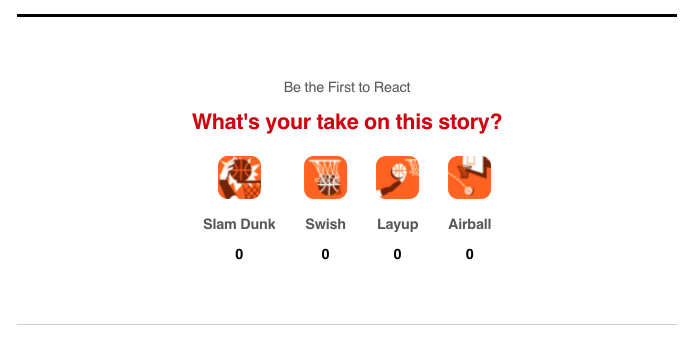 Popular in the Community
We have added a protection layer to our redirect links to prevent unauthorized third-party reuse.
Native SDK (In progress)
iOS latest version: v1.7.0
Android latest version:  v1.7.2
React native latest version: v1.6.0
(Android/iOS) Showing staff member badges are now supported.
(Android) In the pre-Conversation screen, an indication of a deleted comment is displayed. 
(Android) Update to support Android 11 (API level 30): Following Google's policy for updating the supported API level by November 2021, we upgraded our Android SDK to comply with those rules (Android)
(Android) Update to support GoogleAdsSDK V20: Following the breaking changes made by Google in their Admob library, we migrated our integration to support this.
(iOS) Displaying a real-time viewers counter at the top of a Conversation is now supported.
(iOS) Update to Alamofire dependency to version 5.4
(iOS) Update to depend on React-Core in iOS Podspec: Due to an internal change in ReactNative, the React pod has been refactored and we needed to use the React-Core pod from the encompassing React pod (iOS)
Bug Fixes 
Conversation
Fixed an issue in which the reply disappears after clicking on "show more replies" and then logging out
Fixed issue in which only the first link is clickable when more than one link has been inserted into a Conversation
Corrected the wrong location of GIF and Emoji buttons when draft appears in a simple editor
Fixed the reply hover effect remaining after a click on the Reply button
Fixed issue in which opening Community Guidelines causes the user's position on the page to change
Fixed an issue in which long article titles in a comment is cut off
Fixed the location of delete "X" icon in preview (mobile)
Reduced the frequency of the registration call-to-action dialog appearing to once in every conversation
Fixed an issue in which the wrong user name is passed after a user profile change has occurred
Fixed an issue in which cmd+enter does not trigger the Submit button functionality when submitting feedback
Fixed an issue in which the Share modal does not open from the Conversation page
Fixed an issue in which a blocked user gets a real-time rejection indication
Corrected featured comment disappearing after logging in or logging out
Aligned the lower reply with the username of the commenter
When a GIF is not found the key of a GIF will appear instead of the "No GIF found" message
Native SDK
(Android) Fixed comments counter is not updating correctly in real-time
(Android) Addressed unhandled intent in LoginActivity that prevented proper function of Social login
(Android) Fixed crash that occurred after deleting a comment in the pre-conversation screen
(Android) Fixed issue in which upvote/downvote remains highlighted after the user has logged out
(Android) Fixed crash that occurred when an interstitial ad was presented
(iOS) Fixed crash that occurred when trying to open a mailto: link
Notifications
Updated the "X" on the floating notification bell to disappear when opening and closing the notifications from within a Conversation widget
Registration
Fixed support for email addresses with special characters
Topic Tracker
Fixed topics with special characters so that the special characters decode correctly
Changed Choose Reactions Location to Choose Topic Tracker Location in the Admin Panel
Corrected the skeleton preloader dimensions on mobile 
Spotlight
Updated the widget to display the number of comments posted during the current month on sites with a low volume of engagement
For implementations with links to disclaimers, enabled disclaimer hyperlinks at the bottom of Spotlight
Corrected a Spotlight saving issue in the Admin Panel
Corrected margins that appeared above and below the Spotlight widget in certain implementations 
---
September 1 - October 31, 2021
New Features
Admin Panel
A floating notification bell widget can now be enabled and configured through the Admin Panel. Requiring no additional code, this always-visible notification solution increases user engagement with notifications.

OpenWeb Identity
If you have logged out, you can now employ the last used account and authentication method to log in again.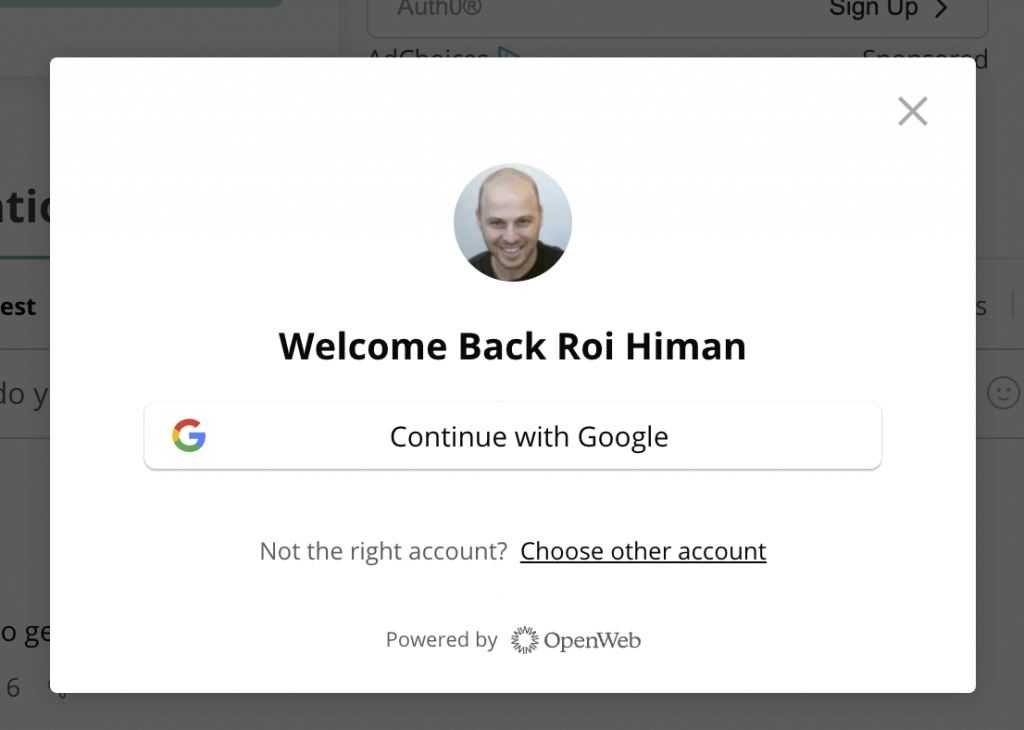 Enhancements 
Conversation
Users can now receive email notifications when their comments are featured by a staff member.

The average star rating now updates in real-time, enabling your users to see how their ratings impact the average rating.

Native SDK
By presenting the full Conversation completion handler, tracking is enabled for your app when the Conversation widget is open.

The native iOS SDK is responsive to window size changes to support the iPad's split view.
Notifications
By defining a common, left-justified alignment, we have improved the readability of all read and unread notifications.

(English only) The names of user interface elements are written in Title Case.
When you make any setting changes, they are saved immediately. You no longer need to click Done.
Identity
When a ReCaptcha error occurs during login or registration, you now receive an alert and a request to try again at a later time.

For the "incorrect password or email" prompt, long language translations are shown in multiple lines.
Bug Fixes
Conversation
Aligned star icons with the average star rating text

Eliminated distracting creation text box behavior when hovering 
Corrected padding on the creation text box
Truncated long bio text on the user profile modal
Native SDK
Cleared highlight on upvote/downvote button when user is logged out

(React Native) Fixed SSO login screen appearing behind Conversation screens
Fixed terms & privacy text on pre-conversation with no comments
Fixed SDK crashing when trying to parse comment HTML text
(iOS) Enabled editing of new comment creation screen title
Notifications
Corrected inaccurate Hebrew translations of moderation decisions notifications

Made all notification settings buttons viewable
Added conjunctions to notifications mentioning several users
Extended hover effect to cover full-width of popup notifications
Set Change email link under Notification Settings to inherit the menu's CSS settings
Identity
Enabled dark mode support on all modals 

Removed logic that restricted the use of an email when a sign-up fails
(iOS) Reduced padding and margins on the Complete Your Profile modal
---
July 15 - August 31, 2021
So long, sweet summer! As we gear up for Fall, we wanted to share a recap of our product updates and new releases from July and August 2021:
Topic Tracker
Topic Tracker is a new offering from OpenWeb that allows users to follow topics and authors that interest them. Users can receive timely in-site notifications when new, relevant articles are published. Contact your Partner Success Manager to learn more.
Product Highlights 
Seamless integration with your registration provider.
Easy implementation: we leverage the topic tags from your metadata eliminating the need for you to manually compile tags.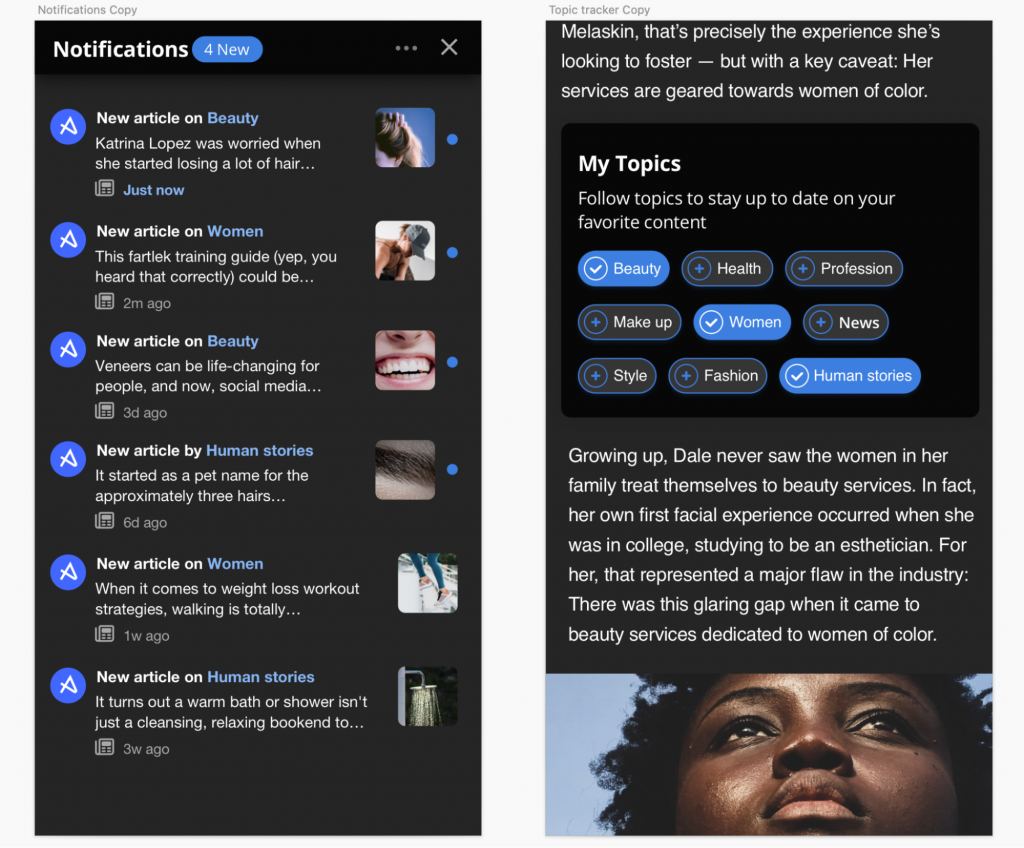 New Features
Feedback Modal
A brand new feedback modal is available for all OpenWeb partners. The new format allows partners a way to easily report bugs or provide recommendations. 

The feedback modal is currently available in English, Spanish, and Hebrew.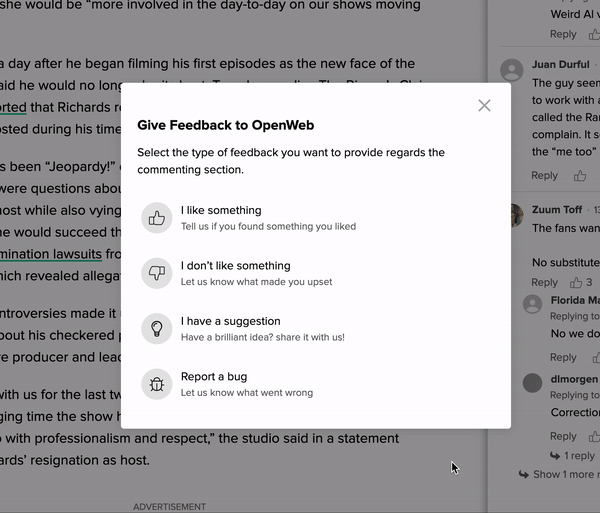 Spotlight
You can now use the counter card CTA to redirect users to a custom URL. An optional TOS disclaimer and can be added below the email collection form.
Native SDK
Enhancements
Conversation UI: 
We've been busy making adjustments to enhance the Conversation UI.  Comments will be truncated after 300 characters in order to display more comments per page. 

We also reduced the padding of the conversation on mobile screens in order to present more content.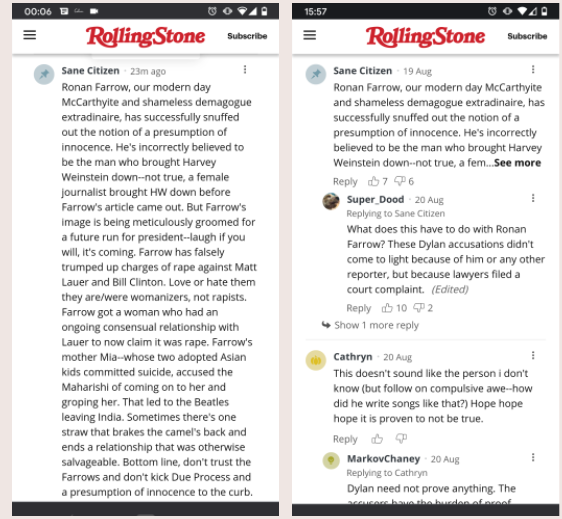 Clarity Mode:
We updated the disclaimer language for images and emojis that require approval.   

Blacklisted users will no longer be able to view the suspension message.
Spotlight: 
We now have more options on how to display Spotlight. You can now embed both the email collection and the comment counter cards in the same site or page. See our developer documentation for more information.

Translations for the 21 languages we support are now available. 
We now support Dark mode. 
Improved protection from unintentional CSS leaks from the partner's stylesheet.
Design tweaks to improve responsiveness. 
Notifications: 
Various improvements to menus and notifications micro-copy. 

Save setting changes after one click. 
Native SDK:
In-conversation images for iOS are now supported.
Bug Fixes
Conversation
Comment timestamp indication no longer overlaps with the context menu.

Context menu no longer shows infinite "Fetching Info" when logged in as a Journalist. 
Sorting loader no longer cuts off. 
Users can add usernames when using Firefox.
RichText Editor no longer remains open when tapping outside the text box on mobile.
Admin panel: fixed comments so they no longer appear unmoderated even after approved or rejected.
Muted users no longer flash when clicking on the privacy toggle.
Updated star ratings so they no longer present negative ratings when the first rating is deleted.
Native SDK
Refreshing the page no longer impacts replies. 

Larger ads no longer truncated in pre-conversation. 
"Add a comment" screen no longer locks in portrait mode.
Reported comments no longer reappear.
Improved clarity of reply text in dark mode. 
Notifications
Notification settings action buttons no longer appear out of screen.

Notification settings menu no longer closes and re-opens on 1st load.
Registration
Improvements to user migration from Disqus: Users now also see the OW onboarding screen and email validation.

Display names can now be set in any language.
Removed vertical scroll that appeared in some use cases.
Minor improvements to reset password flow.
Corrected error messages when user inputs are too long.