2022 was a busy year for OpenWeb. We introduced exciting new partnerships with the biggest names in media, as well as strategic acquisitions, including  Adyoulike SA and Hive Media Group, enabling us to provide even more value to our publishers.
Although the end of the year is busy for us all, it's important to reflect on what we've accomplished over the past 12 months, and to see how it sets the stage for an even better 2023. Below are the highlights of which we're most proud.
Delivered Results For The Publishing Industry
Without a doubt, our biggest success has been helping you, our valued partners in the publishing industry, create more engaged and active communities. The numbers speak for themselves; among users registered with OpenWeb across our publishing network, we saw: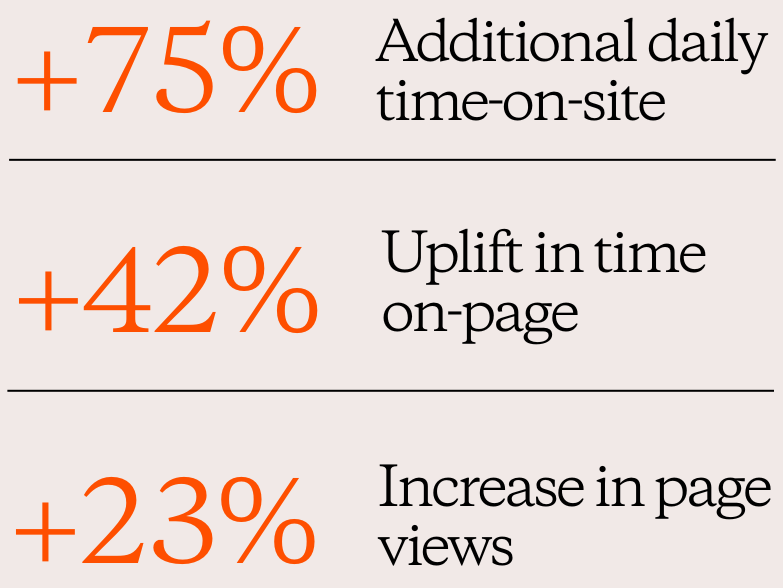 Although these results are extremely impressive, in 2023 we'll keep growing, evolving our products, and making even more impact. We believe that an active and engaged readership is good not just for the industry—but for society.
Acquired Two Companies to Further Our Mission
We kicked off 2022 with the acquisition of Hive Media Group—a digital publisher and engagement platform that builds proprietary, world-class publisher tech. The acquisition enhances our ability to build and test innovative products for publishers to power audience relationships, particularly as it pertains to enabling first-party data relationships. 
The following quarter, we acquired French digital advertising company Adyoulike SA. Adyoulike has a digital advertising marketplace that leverages the contextual and first-party data it collects to place ads, some of which resemble the "story" formats users love on social media. This acquisition will help publishers connect user data with advertisers for targeting purposes. When users see highly relevant ads, the entire ecosystem benefits.
Raised $170M To Expand High-Quality Conversations And Communities
In November, we raised a $170M Series F investment to further our mission of creating a healthier Internet, one that's uniquely positive for audiences, fair for content creators, safe for brands, and healthier for society.
Our latest round of financing will enable us to continue our expansion as we grow from 100+ million active monthly users, and add additional publishers, advertisers, and partnerships into our network.
Created New Partnerships With The Biggest Names In Media
Over the past 12 months, we kicked off new relationships with the most innovative, and influential names in publishing, including New York Times, Sinclair, Dailymotion, Enthusiast Gaming, US News, and Daily Dot.
We are thrilled that these media giants chose to partner with OpenWeb, and to rely on us to build vibrant communities on their properties. It's no secret that social media is more volatile than ever, with turmoil at Twitter, a bill to ban TikTok now gaining traction in the US Congress, and layoffs at Meta and others. Users are looking for safer places to engage with like-minded people—on their own terms. The current social media paradigm is shifting, and The Community Economy is on the rise. 
Joined The World Economic Forum
This past October we joined the World Economic Forum's Global Innovators Community. Through our membership, we'll contribute to WEF's Shaping the Future of Media, Entertainment and Sports Platform, which is dedicated to identifying new business models for content and distribution, and transforming the way global consumers engage with media, information and entertainment. 
"We're humbled to be a part of The Global Innovators Community and we're looking forward to collaborating with some of the world's leading companies to drive meaningful and positive impact in the world," said Nadav Shoval, co-founder and CEO of OpenWeb. "The community's mission is closely aligned to our own mission at OpenWeb to create a healthier online environment that is safe for brands and people and ultimately helps move society forward." 
Expanded Our Team Around The World
People are the most important asset of every company, and throughout 2022, we embarked on an effort to recruit the best and the brightest talent to OpenWeb. We are pleased to inform our partners that we have largely succeeded. 
Over the course of 2022, we grew our headcount from 163 in New York, Tel Aviv, and Kyiv to 275 in new markets, including France, the UK, Canada, and California. The entire team is looking forward to a productive 2023.
What Comes Next?
Next year will be just as exciting as we drive deeper innovations for our partners, further expand our operations into new markets, and explore additional strategic growth opportunities. 
Most importantly, we will strengthen our mission to build a safer, healthier internet—which creates a better world beyond our screens.