February was quite a month for online conversations.
Across our network of 1,000+ publishers and 100M monthly users, we observed a few predictable trending topics.
For instance, communities across sports publishers couldn't stop talking about the Big Game, the Buccaneers' win, and about Tom Brady in particular.
Meanwhile, the top-trending conversations in science publishers' communities were centered around concerns about global warming and climate change, especially following the record low temperatures and snowfall in Texas.
And in news publishers' communities, Ted Cruz's ill-timed trip to Mexico, questions around the COVID-19 vaccine, and Tiger Woods' recent car accident have been the biggest topics of conversation.
We also noticed a few not-so-predictable trending topics: pizza, skinny jeans, rock 'n roll, relationship advice, and tuna were all hot topics in February. 
Let's take a closer look at what sparked those topics—and what people had to say about them.
There was an ongoing debate about pizza
When Dave Portnoy, the founder of Barstool Sports, declared that New Haven, CT was the "pizza capital" of America, users across our network of publishers took to the comments to chime in about their favorite slice.
Some agreed that Connecticut has the best pizza.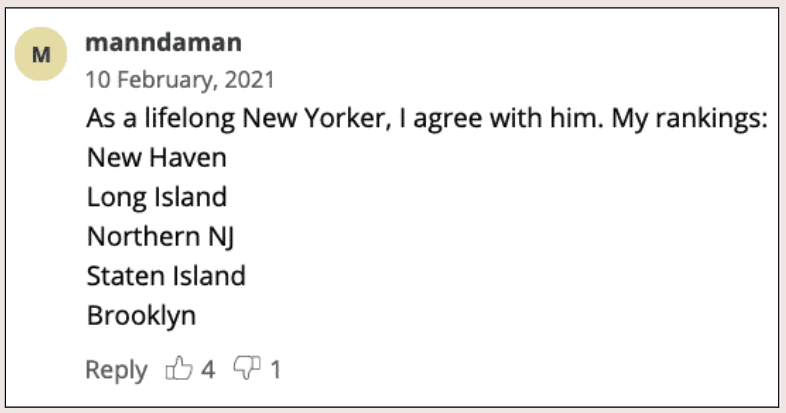 Others didn't.
And a few folks turned it into an educational moment.
Millennials defended their skinny jeans
Are skinny jeans over? According to Gen Z, yes—but millennials across our network aren't giving them up without a fight. 
Side-parts were also under attack from Gen Z. Millennials defended them both.
Gen Z's proposed solution to skinny jeans—baggy jeans—didn't quite sit well with millennials, either.
Ultimately, each generation came to the same conclusion: wear what you want.
Everyone had opinions on the 2021 Rock 'n Roll Hall of Fame Nominees
This year's nominations for the Rock 'n Roll Hall of Fame—announced earlier this month— included Jay-Z, Foo Fighters, Tina Turner, New York Dolls, and more.
Some commenters were excited and hopeful about the picks.
Others had questions.
And a few had demands.
The comment section became a wellspring of relationship advice
Commenters divulged their best relationship advice in time for Valentine's Day—even though many agreed that there's no need to wait for a holiday to show affection.
They had solid advice for navigating arguments.
And most agreed that a sense of humor is a must-have in any relationship.
People couldn't stop talking about tuna
When news broke about a lawsuit claiming that Subway's tuna sandwiches didn't contain real tuna, commenters couldn't stop talking about #TunaGate.
At OpenWeb, we carefully monitor trends in our partners' communities. Stay tuned for more audience insights.