As a publisher, you want to calculate the value of the conversations you host. In other words, you want to know: how does your comments section impact your bottom line?
Look no further! OpenWeb's new Impact Calculator helps you do just that. This easy-to-use tool showcases the business value of the OpenWeb Conversation platform in a simple, visual way. While Publishers have long been looking at siloed metrics such as page views and time on-site, our Calculator allows you to see the holistic value of OpenWeb's civil Conversations—made possible by our proprietary AI/ML-powered, multi-layered moderation—on your bottom line.  
Quality is the Key
As the leading conversation and community engagement platform, we've always emphasized why every publisher needs a user Comments section. Having a healthy, vibrant community of active users—users who read, engage, and comment on articles—has a direct impact on the KPIs publishers care about.
For example, OpenWeb active users: 
view 4.5X more pages
spend 3.6X more time on-site 
drive 3.2X more average revenue 
return 5X more often weekly
…when compared to publisher's users who aren't engaged.
Good Conversations Do Great Things
OpenWeb active users stay longer, interact more, and come back more often. But there's more… Our partners have seen that a lift in civility directly correlates to the lift in page views.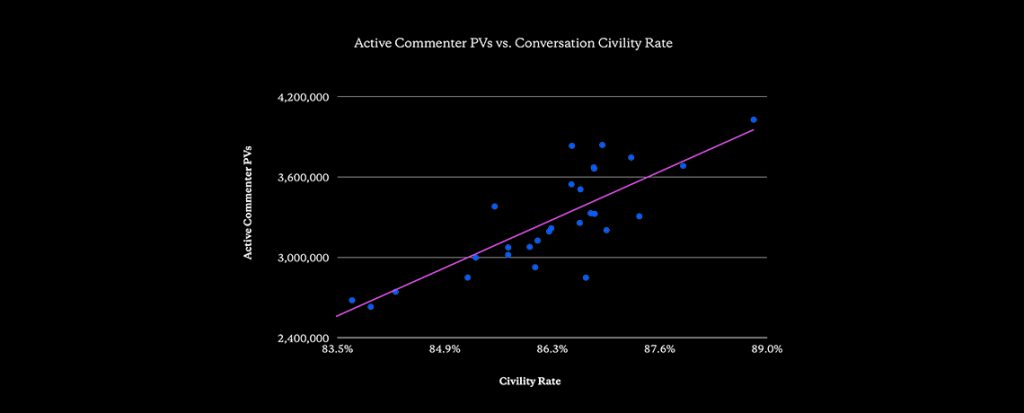 So we decided to take this a step further.
Measuring the Impact of Quality Conversations On Your Bottom Line
Actionable data insights that guide your product and editorial strategies are great, but we know that a vibrant community rooted in quality conversations in your comments section is a revenue driver. So, we evaluated the following growth areas to measure the Total Economic Impact of an active online community on the publisher's bottom line:
Revenue: The direct and indirect (increased engagement and retention) revenue potential of an active community
Engagement: Lift in page views and time spent by active users
Retention: How often active users return to the site
Registration: How likely active users sign-up to be reengaged
Now you can use our 'Impact Calculator' to understand how we drive your business KPIs, even before partnering with us. Results will vary based on the type of publisher, content offerings, platforms utilized, geography, and particular implementation of OpenWeb products and features.
Trusted by the World's Leading Publishers
Always mindful of the publisher's role as a host, we provide our partners with white-glove service and the tools to enable interaction at scale, powered by a sophisticated moderation engine. And we know that no two publishers are the same, so our platform adapts to the specific needs and goals of each publisher.
It's our privilege to play a part in paving the way for publisher sustainability—by helping build their most valuable asset—their community.

See what you can achieve with OpenWeb: 'Impact Calculator'