Now that the conventions are wrapping up, the 2020 election season's final stretch is officially underway. Campaigning looks a little different this year, as all events have moved online, but this change makes it even more important to keep your audience connected and informed of the latest election news. In the virtual campaign era, here's a round-up of everything you can do to keep your audience up to date this election season: 
Give Real-Time Updates 
This year with more people voting by mail, election results might take a while to be counted and for the race to be called. Since 1972 only two times have people gone to bed, not knowing the winner of the presidential election, and this year it is suspected to happen again. It will be essential to keep all your readers updated minute by minute on Election night and beyond. 
As you know, during all breaking news, speed and accuracy are of the utmost importance. Delivering the information directly to your users as it comes in during a breaking event like election results allows you to move faster and directly connect with your audience. Liveblogging lets you convey information that comes in without going through the sometimes time-consuming process of creating a new article. Your readers will get the benefits of speed and exposure to the events as they happen. This will come in handy not only on Election Day but also during the presidential debates and any breaking news situation. 
Showcase Journalists in the Field 
While the election has gone remote, many reporters are still traveling across the country to report on the issues that matter to people across the country. Also, as the country and the world deal with a pandemic, hearing from your reporters as they speak with those affected has never been more important to showcase. One way to do this is by creating a Live Blog that can highlight reporters in different locations, all reporting on one topic or event. This allows your readers to gain information from multiple perspectives.
AMAs with Political Reporters & Experts
In the 2016 election, misinformation and disinformation were prevalent during the campaign and on election day. This election season isn't any different, except the country is also dealing with misinformation surrounding the global pandemic. Setting up a virtual lounge for readers to talk to your journalists, editors, and experts to ask them any questions about the election helps clear up misunderstandings or misinformation. It also lets your readers get information straight from the source. At the beginning of the coronavirus pandemic, our partner Fox News hosted an AMA or Ask Me Anything with a doctor, so their readers could get updated coronavirus information from an expert and let their readers ask all their coronavirus related questions to a doctor.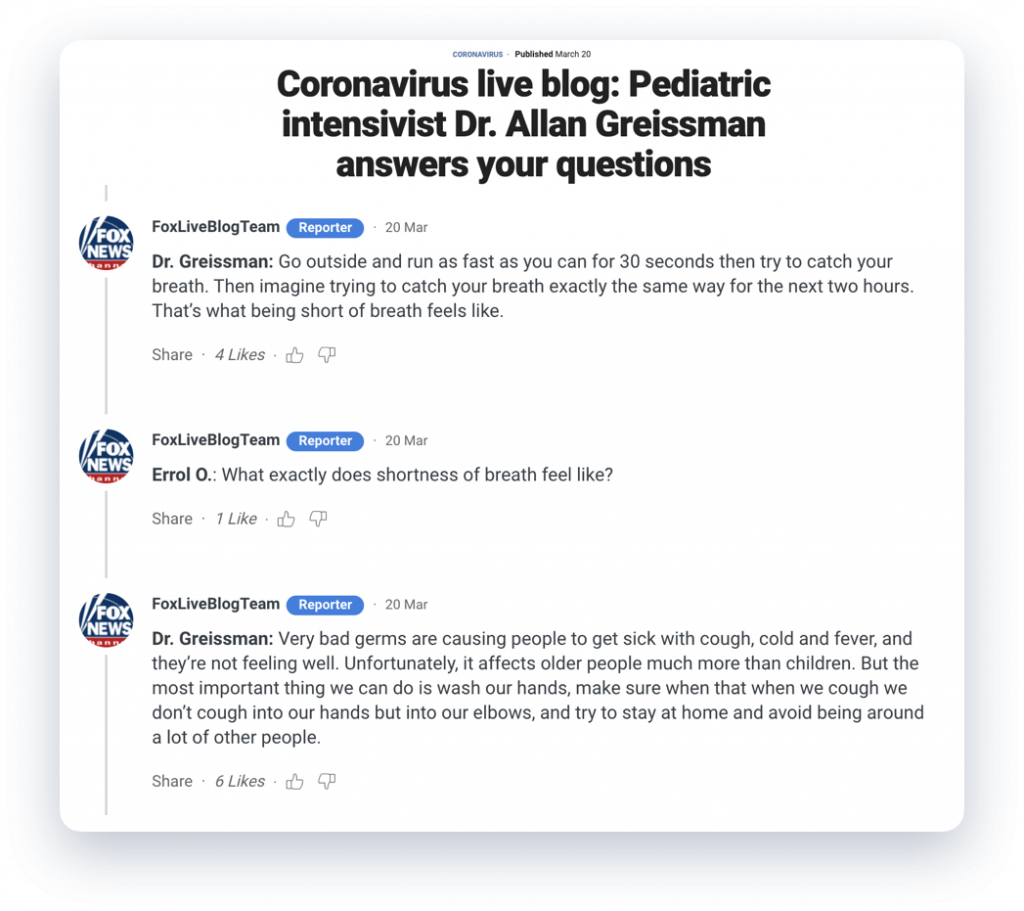 Highlight Breaking News
Lastly, another way to capture your readers' attention and keep them informed is by highlighting the most important news of the day through alerts. This helps you bring direct attention to a specific story or coverage. At OpenWeb, we have a feature called Broadcast that allows publishers to direct traffic and attention to a specific story in real-time. Broadcast highlights breaking and essential coverage within your readers' browsers to alert them to the latest news. 
Throughout this election season, just as important as it is to keep your audience up to date, it's equally important to hear from them. Engaging with your readers will allow you to make sure your content resonates with your audience and build a lasting relationship. 
And, no matter how long it takes for the election to get called this year, we want to help you get the facts to your readers on time. Learn more about our editorial tools here.