The saying goes "as one door closes, another opens." Well, the era of third-party cookies may be drawing to a close — but this is just the beginning of a massive opportunity for publishers to leverage first-party data.
Top publishers are already shifting their focus to first-party data. But to fully leverage your users' data, you will need to streamline gathering, accessibility, and scalability of that data.
OpenWeb partners recognize that by providing a platform for quality conversations to flourish, they gain access to their best users, driving larger business goals. We want to make this data gathering and analysis as easy and as smooth as possible. That's why we're built our Google Analytics (GA) integration.
As the most widely used web analytics tool on the open web, Google Analytics powers website performance measurement for the majority of our partners. This integration allows publishers to send the Conversation events into their default Google Analytics dashboard and seamlessly integrate OpenWeb community insights into their own.
 Highlights:
More transparency: Align OpenWeb community engagement data within publisher's analytics dashboard.
Central access: Compare the performance of OpenWeb users with the rest of the site performance. E.g., impact on session duration, retention, pages per session and more. 
Scale ROI: Enable remarketing and retargeting based on user-level engagement data. E.g., target users who comment on sports articles.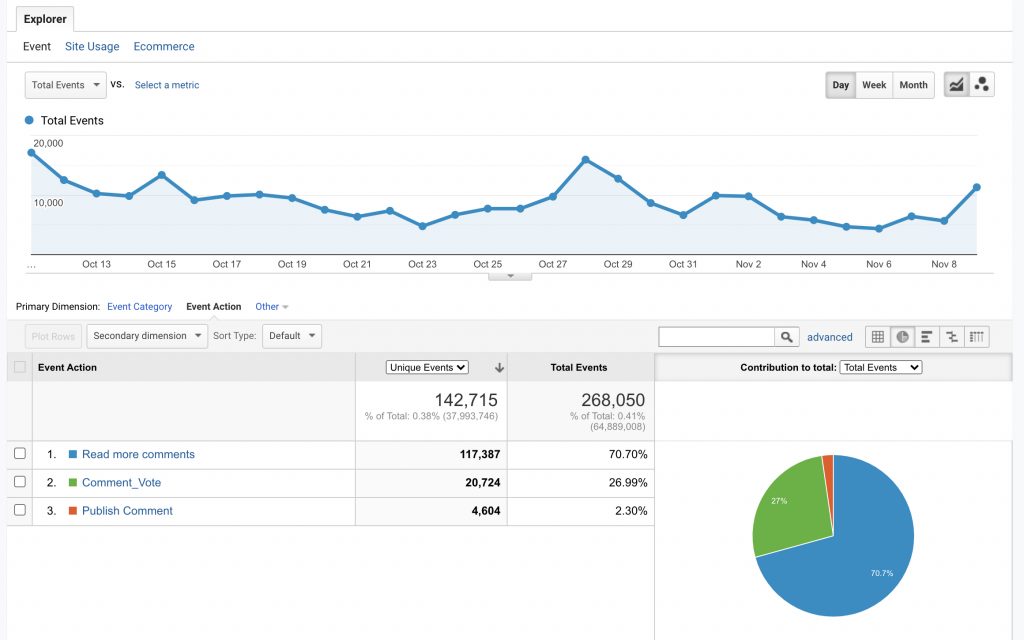 How do you get started?
Enabling GA reporting is simple — no importing excel reports or demanding API events. The integration can be turned on with an easy toggle on the OpenWeb Admin panel. 
Login to the Admin panel >> Settings >> Advanced Settings >> Enable Google Analytics (you are all set up in a click!)
How does it work?
Once enabled, OpenWeb will trigger events for the GA tracker embedded on each page. If you are using multiple trackers on the same page, our tech will identify and report events through the default tracker. The data will flow into your GA instance within minutes — and the events can be viewed on the real-time dashboard. However, Google will show the aggregated data with a 24 hour delay.*
Since Google Analytics has limits on the events that can be set up by account type and size, the following core engagement metrics are provided in the out-of-the-box reporting:
Click on 'Show more comments'
A new Comment / Reply
Click on Like / Dislike
When user ID is enabled by the publisher within GA, SSO login information can be layered on to identify top commenters or engagers. 
This solution is highly customizable to individual partner data needs. OpenWeb offers a wide range of GA event listeners, in addition to the metrics listed above — and can be connected to any GA account. More information is available on our Developers hub here.
Just click the button below to email our Partner Success Team and get started.
*Please note, OpenWeb defines the events for GA reporting, and Google then chooses when to fire on the specific event. This may result in lower numbers reported by Google compared to the OpenWeb report. The expected discrepancy is minimal, but they will not match 100%.