Publishers are not only the hosts of the largest group of active users on the open web— they also have the power to help create an identity for these users and build powerful first-party data.
But to get there, they first need to drive higher engagement and time spent on-site.
So how can they do it effectively? 
By presenting relevant and valuable content that encourages users to stick around and view additional pages.
OpenWeb's Popular in the Community (PitC) is our content recommendation product that surfaces new content that users are likely to interact with adjacent to the Conversation. In addition to showcasing relevant content, PitC also displays top quality comments to catch user attention in real-time. 
PitC boosts user engagement through increased page views and time-on-site—reducing the overall bounce rate.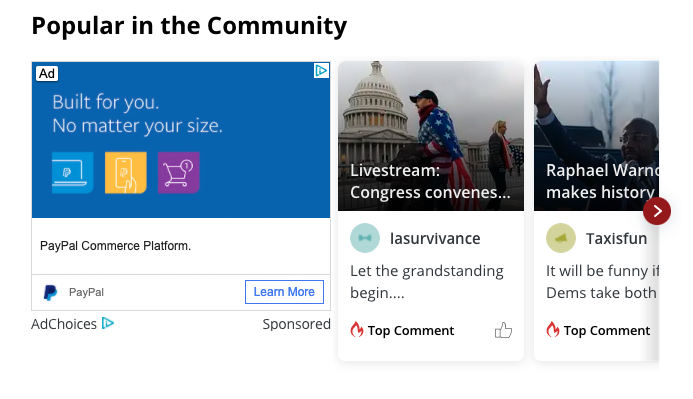 Capture attention with relevant content and community interactions
Most active users on a publisher's website are interested in participating in related conversations or topics across the site.
A simple cue of placing the most-liked comment or top comment on the recommended article entices already active users to interact and contribute more. We saw an average Viewable CTR (vCTR*) of 2.62% across the OpenWeb network in 2020. Compare this to Google Display Network—where the Google Ads average CTR across all industries was only 0.50%—and the results speak for themselves.
43% of commenters read similar-topic articles in the same session.

Source: OpenWeb Network Data, 2020
The content and advertising placed within PitC works because it is targeted to the most receptive audiences based on their behavior and context of the editorial content. It captures user attention when they are at the moment of interacting and discovering new content. Social media perfected the art of endless content discovery, and along the way monetization of attention spent on that content. Technically, they do the same thing—they show users the content or post that is liked or commented by their friend or follower!
Partners using Popular in the Community see lifts in:
Session depth: Additional 2.5 articles read per OpenWeb user
Time spent on-site: Avg. OpenWeb user who engages with PitC spends 5X more time than regular site visitor
Ad performance: Premium positioning, brand-safe and viewable placements 
Revenue: Overall increase in page RPM
By recommending the top trending and most engaging articles from your website, Popular in the Community helps to promote and monetize your most popular content. Partners have the flexibility to adjust the UGC recommendations using our PitC Categories feature within the OpenWeb Admin dashboard. You can also set up custom topics for the articles with the data-categories attribute, such as politics or sports. 
*vCTR – number of clicks / number of viewable impressions
Start growing a loyal audience 
Growing a loyal audience is a top priority for publishers—especially when it comes to building first party data and content monetization strategies—and OpenWeb can help. To get started, get in touch: hello@openweb.com