As we continue to evolve our product offerings, we want to ensure our quality conversation platform provides top-notch user experience and business value to our partners. In accordance with Microsoft's recent announcement that they will sunset Internet Explorer and Microsoft Edge Legacy, we will be soon retiring support for these legacy web browsers. 
What is the upgrade?
Beginning October 18th, OpenWeb will no longer support Internet Explorer and Microsoft Edge Legacy. When users access OpenWeb on these browsers, they will be directed to use Chrome, Safari, Firefox and other Chromium based evergreen browsers to enjoy the latest conversation experience. We will make this transition as smooth as possible by letting users download their preferred browser directly from our notification.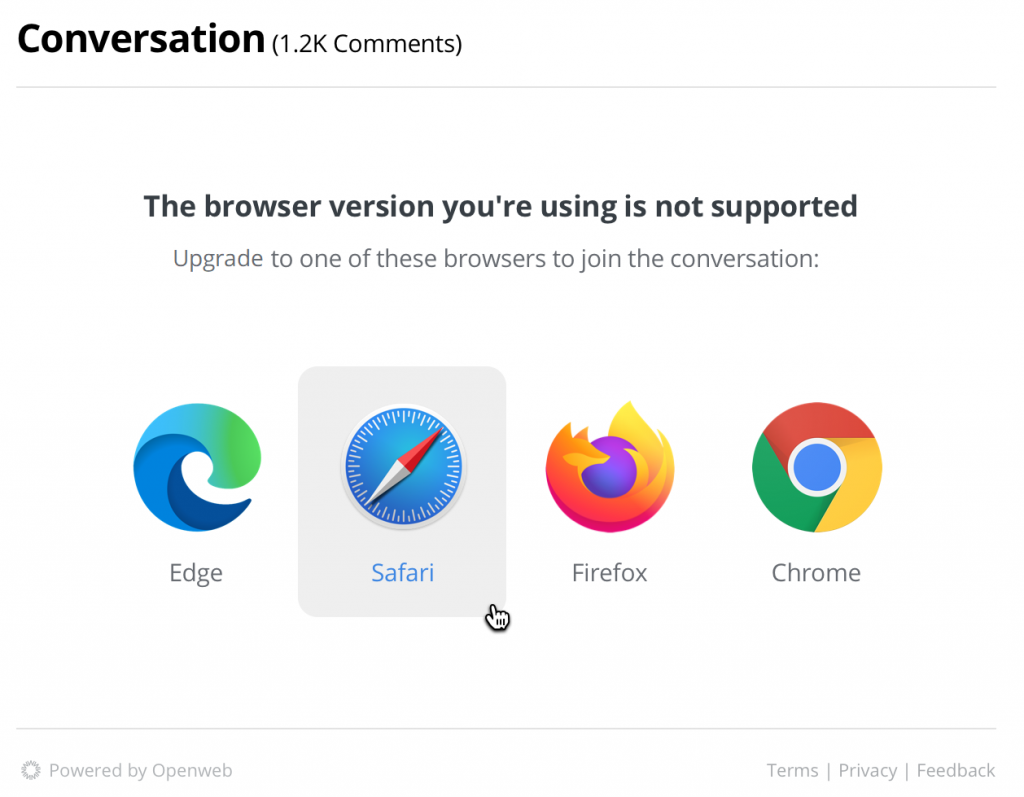 OpenWeb has supported these browsers for the past couple of years, but today, the overall traffic we see on these legacy browsers is less than 1% of our network. As the usage dwindles retiring the support for these browsers will make our product lighter, thus enabling faster response times on the page. This in turn will further improve user experience for the remaining 99% of our users.
We have performed additional internal analysis to ensure this has no adverse impact on user engagement metrics. As we strive to enhance quality conversation experience on your site, we are confident that this will be a positive change to drive frictionless user interaction.
Next steps
This upgrade will be implemented by the OpenWeb team and there is no action needed from your end. If you have questions or need assistance please reach out to your Partner Success Manager.