Jeeng will enhance the community engagement platform's delivery of contextualized marketing and personalized messaging.
NEW YORK, January 26, 2023 
OpenWeb, the community engagement platform serving over 1,000 leading publishers, today announced it has acquired the proprietary audience management platform Jeeng. The acquisition strengthens OpenWeb's ability to create one-to-one relationships with millions of users. It is the latest milestone in the company's rapid expansion of tools designed to connect brands, advertisers, and publishers to audiences whenever and wherever they're online. 
Jeeng supports 150 million unique monthly visitors and over 650 publishers, including VICE Media, The Atlantic, Crain's, HarperCollins, and Vox Media, helping them more effectively build relationships with readers across multiple channels with hyper-personalized messaging. Using AI technology, Jeeng leverages first-party data to deliver highly effective content tailored to users' interests across email, push, and other channels.  
The acquisition of Jeeng's proprietary solutions will allow OpenWeb to expand its base of over 100 million active users and 1,000-plus publishers. The world's Top publishers, including The New York Times, Hearst, Yahoo!, Penske Media Corporation, and News Corp, rely on the B2B2C platform to help them host healthy online conversations and build thriving communities.
"This acquisition brings us closer to our goal of  'OpenWeb Everywhere,' giving brands and publishers the ability to communicate with hundreds of millions of users across every online platform they encounter – messaging, email, notifications, newsreaders, interactive conversations and more," said Nadav Shoval, CEO and co-founder of OpenWeb. "With the demise of third-party cookies, collapsing trust in social media, and the segmentation of online audiences, publishers and advertisers need to talk to their users one-on-one, in a personalized way. With Jeeng's capabilities, we can continue to build and strengthen those individual relationships."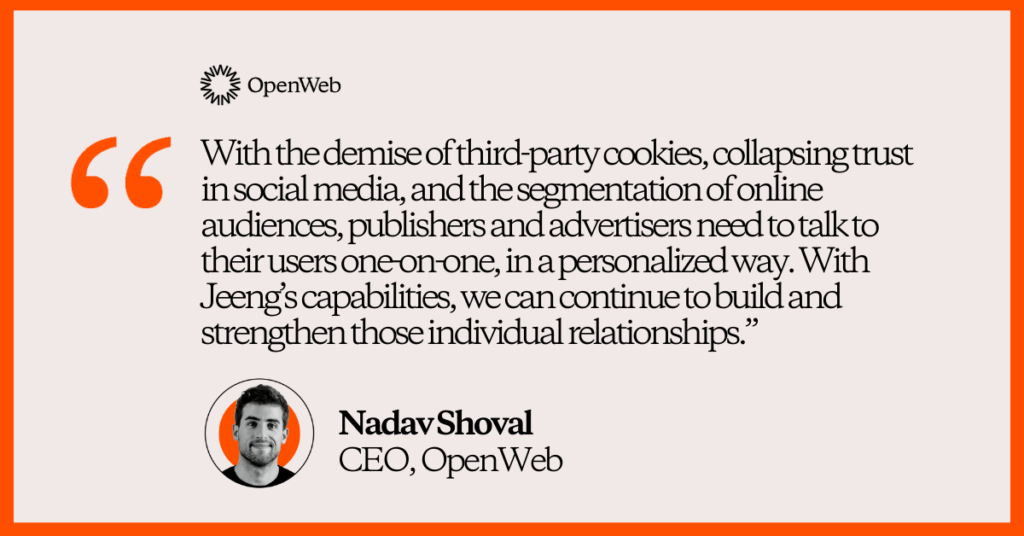 "Users are bombarded with messages directed at them online every day, and publishers need a way to break through that noise and deliver curated content," said OpenWeb CFO Haim Sasson. "This unified company will be the definitive partner for publishers and advertisers to move away from the walled gardens of social media and establish more thoughtful, more secure connections with audiences."
"OpenWeb and Jeeng are the perfect fit as we share the same vision," said Jeff Kupietzky, CEO of Jeeng. "OpenWeb is leading the industry in cultivating innovative, safe, and Web3-ready decentralized social experiences. Jeeng has excelled at providing personalized, automated communications with built-in monetization. Together, we're forming a hyper-targeted and first-party data-rich 360 degree experience."
JMP Securities served as Jeeng's financial advisor  in the transaction. The acquisition is the third within 12 months for OpenWeb. In January, the data company purchased Hive Media for $60 million, adding expertise and resources to enhance its ability to build new, innovative products to empower publishers' relationships with their audiences. In April, it acquired ADYOULIKE, a global advertising platform, for $100 million. Most recently, OpenWeb raised $150 million in Series F funding, bringing its total valuation to $1.5 billion. 
Jeeng's 60+ employees will be integrated into OpenWeb across New York City and Tel Aviv offices.
View this press release on PRNewswire.
About OpenWeb 
OpenWeb's mission is to improve the quality of conversations online, building a healthier web where content creators of all kinds are empowered to thrive. As a product company, OpenWeb partners with publishers and brands to build strong, direct relationships with their audiences. OpenWeb's technology empowers its partners to build vibrant communities rooted in healthy conversations and robust social experiences. OpenWeb works with more than 3,000 top-tier publishers, hosting more than 100 million active users each month.
Founded in 2015, OpenWeb has over 265 employees in New York City, Tel Aviv, Kiev, San Diego, Canada, London, and Paris and is backed by world-class investors including Georgian, Insight Partners, , Entrée Capital, The New York Times, Samsung Next, Dentsu, and ScaleUp. To date, the company has raised $393 million in funding and is currently valued at $1.5 billion. To learn more about OpenWeb's platform visit OpenWeb.com, or follow @OpenWebHQ on LinkedIn and Twitter.
About Jeeng
Jeeng, formerly PowerInbox, provides personalized, automated and multichannel messaging solutions allowing publishers to drive new revenue with personalized audience engagement. With Jeeng, publishers can better own and optimize their audiences – focusing on automated, cross-channel messaging tailored to audience interest, easily managed and supported by a dynamic messaging platform. Venture backed, Jeeng supports 150 million unique users a month from over 650 leading publishers including VICE Media, The Atlantic, Crain's, HarperCollins and Vox Media. For more information about Jeeng, visit www.jeeng.com. 
Contact:
Dana Mirman
Mark Allen & Co.
dana@markallenco.com