The celebrating and trash-talking during major sporting events don't only happen at home, or in sports bars – it also happens online. Super Bowl LIV was no exception.

Monday morning after the game, as people headed back to work we saw a significant spike in audience engagement across sports and entertainment sites. A game like the Super Bowl brings a year-long's worth of passion and excitement to the centerstage. It also provides an opportunity for superfans to share their excitement or frustration. The Kansas City Chiefs victory, 54 years in the making, led to expected celebrations online, as we measured a 61% increase in comments and a 48% increase in 'likes' across sports and entertainment sites.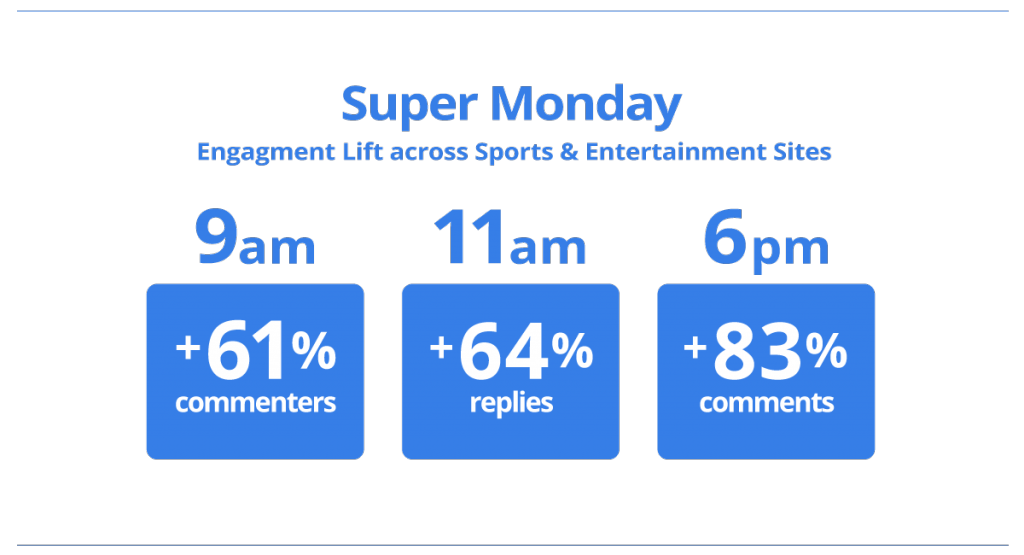 The Super Bowl is a perfect example of how tentpole events influence casual visitors to engage with a community bound together by enthusiasm for the same things. We have seen across millions of users that once a visitor engages in a conversation their behavior takes a huge turn – they start coming back for more. Based on Spot.IM data across 700 million monthly users, we have consistently seen that the average session time per user doubles after their first comment. This was incredibly evident during the Super Bowl. Fans weren't just coming to tell the community how they felt about the game or the halftime show, they were staying to also comment on other people's posts. There was a 64% increase in replies.

The day after any major sporting event all conversations online and off are about the major moments from the game – a 4th quarter comeback, Shakira and J.Lo's halftime performance or even a bizarre commercial. Spot.IM's publishers were able to use this opportunity to host engaging discussions around these most-talked about moments.

People don't only want to hear what talking heads or sports commentators share about these moments, they want to be part of that conversation and share with their peers. When publishers become good hosts and open up their space for their loyal and passionate audience to be part of the conversation, they build strong online communities that will drive lifetime value for their business.

Learn more about how Spot.IM can help you drive audience engagement and retention.