Engaging with readers is a fundamental part of journalism, and vital to driving thoughtful discourse. We get that reading comments and responding to readers can feel like "just one more thing," but done thoughtfully and confidently, it pays dividends on your time.
Why get involved? 
Overall, journalists have a responsibility to the public and the communities they cover. Engaging with readers is fundamental to making sure your work truly matters for your audience. Creating this relationship will not only build trust, but it will encourage readers to continue to make a habit of reading and engaging with your stories. Here's what else getting involved can do for you:
Build trust with your readers
Trust in the news media has been on a downward trend. According to the Reuters Institute for the Study of Journalism and the University of Oxford's 2020 Digital News Report, only 29% of Americans surveyed said they trusted the news media in general. Replying and responding to your readers give them confidence that you are listening to them and therefore serving their needs. "To rebuild trust…local news organizations should become a driving force for better online public discourse.  Local news organizations have an opportunity to be leaders in this area by aggressively convening and reporting on community conversations," wrote Marie K. Shanahan, an associate professor of journalism at the University of Connecticut, for Nieman Lab. The comments also allow you to explain editorial decisions and let your readers in on the process, building credibility. 
Increase the quality of the conversation
Are you tired of looking at the comments below your article getting out of hand? One study out of the University of Texas at Austin found that journalists who got involved in the comments could increase overall civility. We've even seen it happen with our partners. Hannah Rimm, Editor of Refinery29's Money Diaries column said, "I've also noticed since I started commenting more frequently, there has been more discussion and a little less judgment." 
In the comments, readers oftentimes offer up their own experiences and how they relate to the story, and it is those disclosures that can lead you to a new story or new source. "Readers often ask smart, thoughtful questions, which have led to new coverage," The New York Times explained in a story about how its readers made their journalism better. And, sometimes, the comments or responses to an article can become the story. When The Times asked its readers if they had ever been told to "go back to where you came from," they received over 16,000 replies. Their readers detailed the insults they received and The Times turned it into its own story. 
Develop loyal readers who will return for your future stories 
Journalists are all very familiar with building their brand and audience on social media. So, why not build a name on your site? Interaction with your readers in the comments allows your readers to build a connection with you. This relationship incentivizes readers to continue to engage with your stories. It also will allow you to better report on the community you are writing for,  journalist Mónica Guzmán sums it up best saying, "Find the communities whose conversations you can do the most to strengthen and get to know them. Not so they can serve you with clicks and shares and crowdsourcing, but so you can serve them better than anyone else."
So you're in. Now, what's next?
You've decided to take the plunge. The next step is learning how to navigate these conversations. This part can seem daunting, but here are our tips to help you have quality conversations with your readers. 
Let your readers know you are open to a conversation 
The first step is letting your readers know that you are open to a conversation. You can either create the first post in the comments section, or you can even include a note at the end of your article to let your readers know that they should tell you what they think below. Either one of these gestures lets your audience know that you are there, which can also help keep the comments civil. 
Clearly identify yourself 
Whenever you are going to comment on your own stories it is important that you make it clear you are the author of the story. Usernames often include variations on names, nicknames etc., and it can be hard for users to recognize that you are a part of the staff. So, your username should be the same name you use as your byline and when you enter the conversation you should explain that you are the author. Our conversation platform allows reporters and editors to identify themselves with a staff badge by their picture.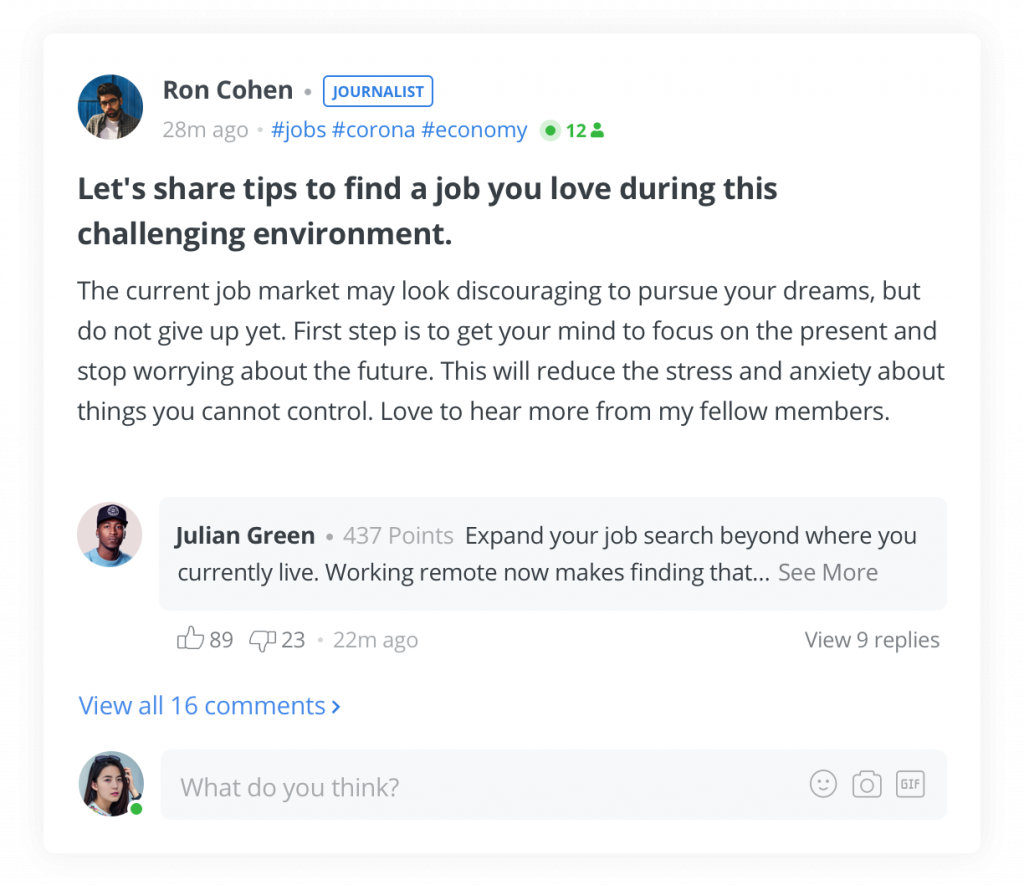 Respond to curious readers 
Once you are ready to actually reply to readers you should seek out the genuine and relevant questions first. Answering your readers' earnest questions helps you clear up any misunderstandings and provides additional context to your piece. This also allows you to build trust with your audience, pulling back the curtain on all the work you did to get the story out. If possible you should try and respond to questions on all of your published stories, but if that is too much you can aim to make one story a week a priority. 
Lead by example 
This probably goes without saying, but in your responses to readers, make sure to keep things civil. This way your readers will do the same. There's no need to respond or react negatively or defensively. If a comment makes you upset it is probably best to not reply. See: don't argue with the trolls below. Overall, treat your readers with respect, so they will respect you too.
Thank readers for thoughtful comments 
Sometimes there's not much more to say other than "thank you," to readers. Some comments don't ask a question, but they still provide valuable commentary or even feedback. Thanking readers is a great way to say you are listening. Thanking readers for their comments also shows other commenters that writing thoughtful comments are valued and will encourage more thoughtful comments in the future. 
Don't argue with the trolls
Trolls – the reason why many avoid comments. For the most part, trolls troll to get attention, so it's best to not give it to them. They purposefully try to evoke a negative reaction, which mostly can make things worse. If the comments cross the line into derogatory, hateful, racist, or violent, you should flag and report them. (Or have a tool that does it for you!)
We've been striving to make talking with readers even easier for journalists. This week we launched Community Feed, which allows journalists to start topic-based conversations outside of articles — earning wider reach and exposure. So, you can crowdsource information, ask for feedback or just say hello without creating an entirely new article. These posts have already been shown to get 200% more engagement than regular comments. So, it can be a helpful feature for reaching out directly to your community. 
Well, now you are ready to tackle the world of engaging with your audience. Start a conversation and let us know how it goes below!