Amazing content is the backbone of most publishers' retention strategy: Great content naturally captures attention, and producing a constant stream of high-quality content should lead to retention. But there's a retention booster that publishers can leverage outside content: their existing communities.
Fostering a community online is underpinned by hosting robust social experiences. This social experience comes to life most visibly in the comments section—but that's not the whole story.
More social experiences attract more engaged, registered users who stay on-site longer and return more frequently over time. This post will explore how publishers can drive engagement using social experiences, how these experiences build a strong, loyal community that keeps returning, and how that community is the foundation of your first-party data strategy.
Social experiences: from conversations to simple one-click polls
Social media users spend an average of 2.5 hours daily engaging with content on their favorite social platforms. Successful publishers today are finding ways to bring these engagements to their site—and for good reason. At OpenWeb, we've seen interactive social experiences lead to lifts in retention up to 450%.
At the core of a successful social experience is the community, anchored in quality conversations made possible by effective moderation, like OpenWebOS's AI/ML-powered moderation technology. In addition to just reading articles, active users in a publisher's community can engage by commenting, replying, liking others' comments, or simply reading the comments—leading to greater time on-site (+35%) and viewing 200% more pages than non-active users.
But what about users who don't have time to engage in the comments section? OpenWebOS's suite of engagement tools include fully customizable polls called Reactions that publishers use to drive engagement with a single click and get a pulse on their community.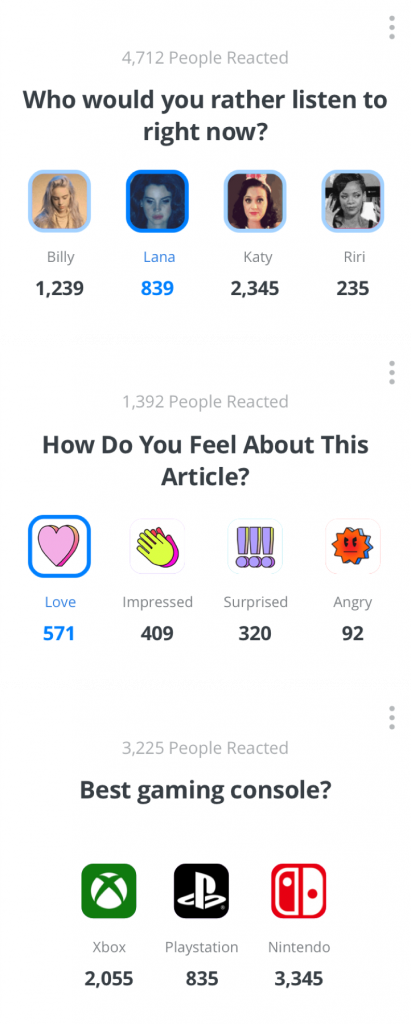 For instance, an online games publisher could use a poll to ask their users about their favorite gaming console. An entertainment publisher could ask their users about their favorite trending artist. Finally, publishers can also use Reactions to find out if their content is resonating with their users by posting a poll asking how they feel about a certain article.
Gather first-party data insights through social experiences 
Social experiences provide publishers with valuable audience insights—and the more opportunities your users have to interact, the more opportunities that you, the publisher, have to get to know your users even better.
That's because social experiences motivate users to register. OpenWeb's top publishers report about 30% of all new users are won through OpenWebOS. Registered, logged-in users create first-party data that you can use to align the right advertisers with your users and inform your editorial strategy. Even simple conversation tools like Reactions polls help publishers quickly gain audience insights—so it's important for publishers to use any and all social experience tools at their disposal. OpenWebOS provides experience tools like Live Blogs, AMAs, Community Questions, and more to keep your users engaged and interacting longer. See all of our experience tools here.
Create engaging social experiences with OpenWebOS 
We've only scratched the surface of how publishers can drive continued engagement. OpenWebOS's suite of proven experience tools are designed to keep users engaged longer and returning more frequently over time—and they're all backed by a hybrid moderation engine that enables high-quality interactions. Learn more about social experiences from OpenWebOS.