To many, The Sims—the series of life simulation games that spun off from 1989's SimCity—might seem a piece of 90's or 00's gaming nostalgia. But for Jovan Jović and the millions of The Sims fans who congregate at Sims Community (the website he founded nearly ten years ago) each month, The Sims is anything but in the past. And, for what it's worth, the game series continues to enjoy new releases to this day.
The community around these games, which Jovan's website has long been a part of building and sustaining, is an incredible example of what the internet can offer users, content creators, and publishers alike. For users, it's a gathering place for a niche community outside the walled gardens of social media. For Jovan and his team, what was a hobby has now become a business rooted in their passion for the games they love.
We spent some time recently chatting with Jovan about how he started, grew, and sustained Sims Community over the past decade. We also look at how the switch to OpenWeb is helping Jovan foster a healthy and constructive community while increasing engagement, gathering audience insights, and create a true destination for The Sims fans.
Tell us about Sims Community and your role.
Jovan Jović: I'm the founder of the Sims Community and have been running the site for almost a decade. It began as a fan site for the Sims on the 21st of May 2013, when Sims 4 was announced. Initially it was just me, and I gave it my all creating news, guides, original articles to keep people informed and engaged with the game. It was a fun after-school activity that turned into a serious hobby. Today, Sims Community evolved into a News & Media professional workspace with an entire team of Authors, Code Developers and experts in the Media industry. The community kept growing as the game exploded with the Gen Z audience, along with long-time players who have taken a hiatus and came back after the recent interest growth for the franchise. It's expanded beyond news and guides to spotlight the creations the game players are making, spotlighting creators themselves and helping other players find hidden gems within the creative space that is The Sims.
What is Sims Community's approach and philosophy about community?
JJ: Our approach towards the Sims Community platform has always been putting the players, the creatives – our community – first. It's a community within a community. So it's embedded into the fabric of our work and philosophy. It's extremely important for us to be as transparent and honest as possible for consumers of The Sims franchise. All while showcasing the creative moments of this game and sharing them with the world.
We want to show that Sims is not just a game, but much more than that—a whole group of connected, creative individuals across the globe who use The Sims as a tool of self-expression.
Sims Community improved a lot over the last year after paying more attention to what our community wants and expects from the website. We now do a lot of community polls and engage with the members as much as we can. But we're excited to bring on OpenWeb and find additional features to make engaging with Sims Community more fun, useful and constructive for our members.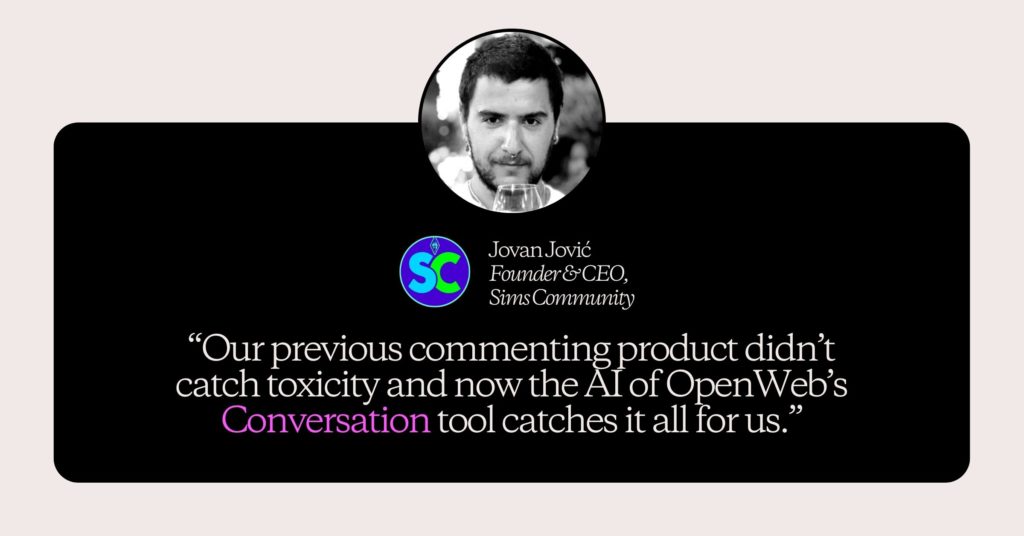 How do you see your community approach evolving now with OpenWeb?
JJ: After integrating OpenWeb, giving more incentives for discussion, and using some of the features, it fell in line beautifully with our new community guidelines. Our previous commenting product didn't catch toxicity and now the AI of OpenWeb's Conversation tool catches it all for us. The community started to become more constructive towards one another. People started helping one another and finding quick solutions for their game. We have been testing features like Live Blog, where writers joined live conversations and showed new releases of game features. We can't wait to integrate more of that. I also really like the Reactions feature. Our custom Reactions that we've integrated helped leverage and improve expression for each article we publish. I plan to make use of more of OpenWeb's features and can't wait to collaborate with the team further. Our experience with the OpenWeb team has been fantastic so far. We've received top tier support at every turn. 
What are you most excited about in the media industry right now?
JJ: Ten years ago when I started the website it was deemed almost impossible for publications, media and brands to be casual and open with their communities. This industry had a very serious tone for such a long time. Brands had to make definitive decisions because otherwise they'd be met with definitive yes or no answers from their audience.
Today, new trends and tools have given everyone a chance to voice their opinions. And to be proven wrong on certain occasions. And for all of that to not be that big of a deal anymore.
There's way less definitive expectations. What once was perceived as an "ultimate mistake" is now being seen as a learning curve. This all allows creativity to have a moment in the sun right now. And for the quality of the media industry and gaming websites to only grow better.
It's exciting to see that a site like Sims Community can grow and flourish into a fun, more positive and constructive community. I can't wait to see where our community will take us next!
What are some of your future plans for Sims Community?
JJ: At the moment, Sims Community is growing more than ever. In September 2022, we are counting 11 dedicated team members that are helping us operate the site on a daily basis. So for the upcoming period, we definitely want to collaborate more with our team members to tighten our branding even further and to be recognized as the independent and unique publisher that we are. Our main focus though will be on the community of course. We have big plans in the works for the integration of our community where they'll have an opportunity to express their creativity. And be valued for it. 
To learn more about OpenWeb's solutions for publishers, click here.