The end of the year is an occasion for champagne, novelty glasses, and healthy self-reflection. And if you don't mind, we'd like to indulge in a little bit of that last thing ourselves. Because the fact is that this has been, for us at OpenWeb, a banner year—among the most exciting in our company's nearly decade-long history. Barely a day passed without something notable happening: a new feature, a new initiative, a new financial milestone. So join us, below, as we walk through some of OpenWeb's 2021 highlights.
Remarkable Outcomes For Publishers
A leading theme this year? The incredible results we generated in our partnerships, supporting the bottom-line outcomes that matter most to the publishing industry.
Among users registered with OpenWeb across our publishing network, we saw: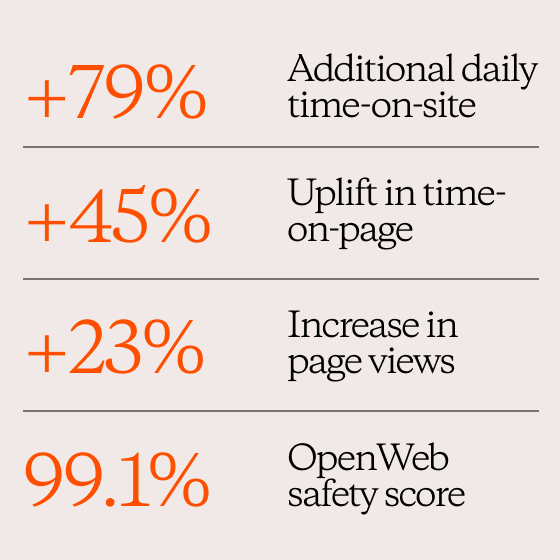 OpenWeb Becomes Tech's Newest Unicorn
Of course, we can't not mention this year's biggest milestone: the $150 million in Series E funding that turned OpenWeb into tech's latest "unicorn," with a valuation of over $1B. Some big names made this round possible: prestigious investors like Insight Partners and Georgian, industry luminaries like the New York Times Company, Professor Scott Galloway (who also joined our board), Samsung Next, and more. That the news was trumpeted on the Times Square NASDAQ billboard was just the icing on the cake.
The round was a loud vote of confidence in OpenWeb's central mission: the creation of a safer alternative to existing social media platforms, one that empowers publishers and brands across verticals with tools to build vibrant communities (and first-party data relationships with their audiences). 
We Started Some Amazing New Partnerships
As this year's many "big tech" scandals demonstrated, these efforts are more essential than ever. At OpenWeb, we're proud to play a role in what comes next for media. This year, we welcomed to our roster such distinguished publishers as Yahoo, Forbes, the Wall Street Journal, The New York Post, and more. They entered our network which, in 2021, has a safety score of 99.1%. With this latest funding round, we'll be maintaining and improving on those already-high standards, while innovating across our product to power the web.
What Else Did We Get Up to in 2021?
Speaking of product innovation… We were busy this year.
Take Best Sorting: the feature that surfaces and prioritizes the highest-quality comments, thereby decreasing exposure to lower-quality, more toxic comments and elevating the overall discourse. Or take Reactions, which lets users engage with content in a more direct way (and lets publishers monetize that interaction). Or look at the enhancements we made to a number of our pre-existing offerings, like our Conversation moderation technology. We introduced Topic Tracker, which lets users receive notifications on specific subjects of interest, and vastly improved our onsite Notifications capabilities.
Meanwhile, furthering our commitment to reducing toxicity online, we engaged in first-of-their-kind cross-industry partnerships with NewsGuard and the Global Disinformation Index. With their help, each publisher in our network is now audited on a quarterly basis; if both NewsGuard and GDI identify a publisher as less-than-credible, we initiate an investigation. These partnerships are a testament to how seriously we take our mission to improve online conversations—how committed we are to creating a healthy informational ecosystem.
New Team Members, New Offices
Of course, none of this would be possible without our team, which also grew significantly this year: overall, we made over 50 hires in engineering, IT, business development, data, marketing, and partner success. We added experienced leaders, expanded our board of directors, and opened an R&D hub in Kyiv. 
And, most importantly, we produced tangible results for publishers: in 2021, users registered through OpenWeb showed 79% additional daily time-on-site, 45% uplift in time-on-page, and a 23% increase in page views. 
Looking Ahead to 2022
Perhaps this is cliché, but it's true: We're just getting started.
Looking towards 2022, we plan to seriously scale our operations: more team members in more countries working to improve our discourse and help publishers grow.
Ultimately, our mission extends far beyond your laptop or cell phone screen—because as we all know by now, you can't separate the digital realm from real life. What happens in one has an impact on the other, for better or for worse. A safer, kinder internet—anchored by a free, diverse, and financially healthy publisher ecosystem—makes for a safer, kinder world. At OpenWeb, that's the world we've been building towards. And we plan to keep building towards it, in 2022 and beyond.