Over the past few years, digital publishing ad revenue has dwindled, driving publishers to pursue other viable revenue alternatives. Keeping up with the growing subscription economy — large publishers such as New York Times, The Wall Street Journal, The Washington Post and the likes, have been clearly focused on growing their subscriber base. Just in the first quarter of 2020, the industry saw almost 20% growth in subscription revenue. The latest edition of Zuora's Subscription Economy Index, reported that digital publishing has seen a boom in digital subscriptions even during the pandemic. They recommend "publishers who are not using digital subscriptions should start". 
So where do you start?
The first step of the conversion funnel is a conversation
A recent International News Media Association study demonstrated that only 10% of online readers drive more than 74% of revenue. How do you identify this top 10% and incentivize them to return often? At OpenWeb, we have observed a typical active user journey looks like this: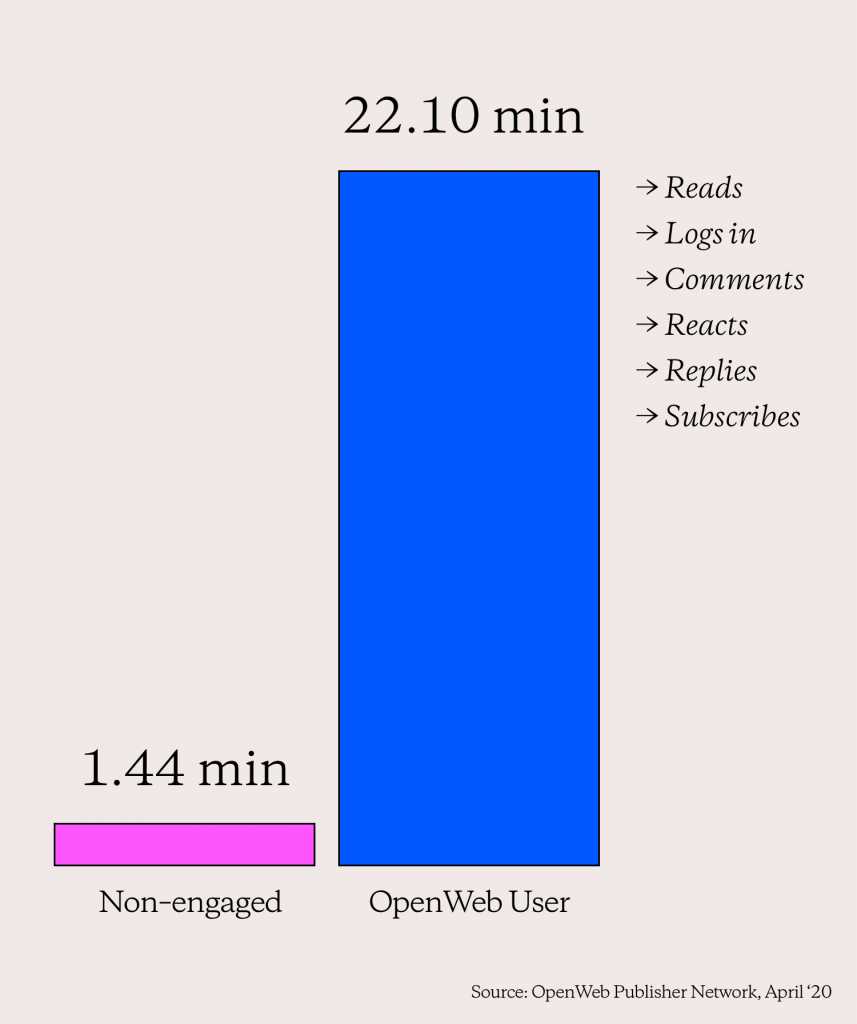 A user enters the site and starts the journey by reading a relevant article. At the end of the article, scans the conversation around the story and decides to contribute. Logs into their profile to leave a comment, reply, or react to participate and stay connected to the community. Network-wide, on average an active user spends more than 3.5 mins reading the conversation.
Based on our extensive user modeling data we optimize user experience by predicting their next step. For example, predicting the length of attention span can help surface a relevant ad — or the likelihood to click-through can guide which articles are being presented (within Community feed) — or the likelihood to subscribe can push a notification to subscribe to a newsletter or sign-up for a digital event. 
Essentially, the key to user loyalty begins with creating a habit that will bring the user back to your content. As publishers become hosts of public discourse — creating an environment where meaningful and engaging discussions can flourish — without the fear of abuse, is vital. We have seen time and again, driving healthy conversations and building a quality community — who wants to stay connected deepens the stickiness around content. This in turn increases user session time, page views — and conversions such as registrations/subscriptions, leading to a lasting relationship. The more loyal the users, the more valuable they become overtime, whether it's through user data insights or advertising revenue.
As Charles Duhigg states in his popular book, The Power of Habit, "If you believe you can change – if you make it a habit – the change becomes real."
Create pathways to move users through the loyalty funnel
The key to building a habit lies in providing cues to induce a behavior — and rewarding that behavior, when it occurs. So creating relevant product experiences — and prompting users to take the path down the engagement funnel is as important as providing tangible benefits that users find valuable. For example, having a conversation platform as part of the editorial strategy pulls the reader in and builds stickiness. Using reward mechanisms such as user badges, reputation points — or providing special access based on user recognition within the community encourages users to come back for more. One is short term, the other long.
Unlike social media platforms where user commentary is the primary content, publishers create premium content for readers to connect around. By providing a platform for users to interact, they can nurture and understand their community better — and offer what's valuable for their community. Eventually, as a natural progression, users become more willing and motivated to pay for quality news and information — because it's more than just content.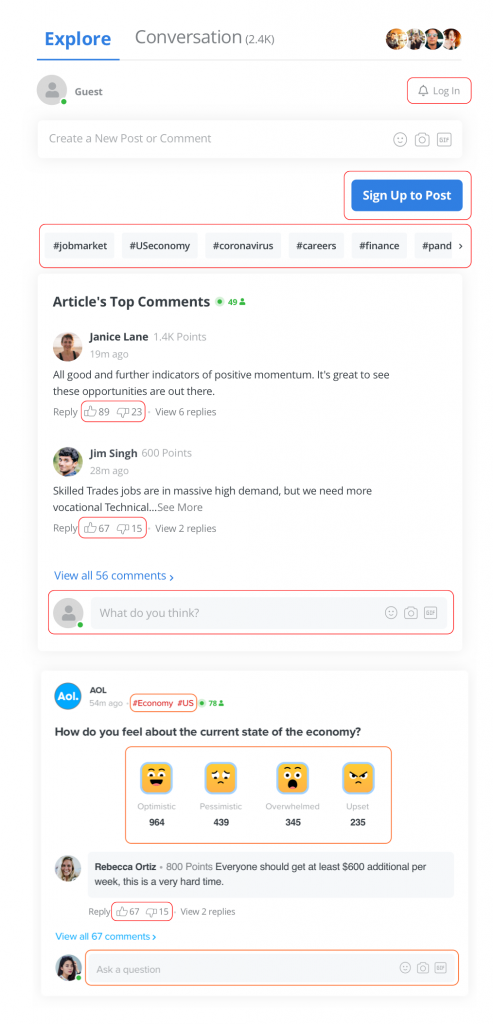 On the OpenWeb Network, almost 29% of users complete the registration funnel* once started. We design the user journey with effective call-to-action placements and cues to encourage positive engagement and drive registrations. Our partner, Denver Post placed a simple cue at the end of articles to subscribe, in order to participate in a conversation. It resulted in a dramatic +30% lift in user registrations in less than 12 months. 
A user registered, what's next?
As more and more users flock to online platforms to get their latest news, today the most important currency for publishers should be user loyalty. Acquisition strategy brings the user in — but a retention strategy is critical to reduce churn and grow user lifetime value. Network-wide, +40% OpenWeb users return month after month, consistently exceeding industry average.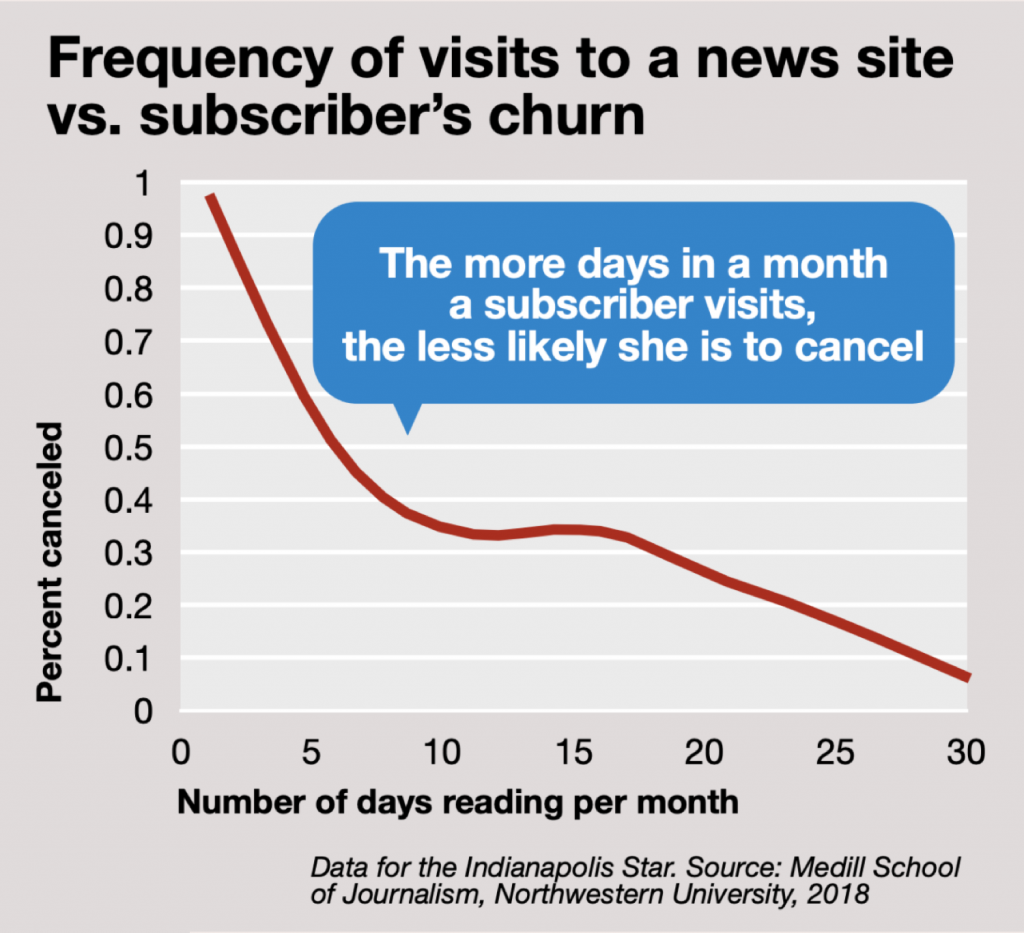 As one of our partners, The Times mentioned in DigiDay, "A key retention lever for the times is commenting…The Times found that subscribers who comment read three times as many articles as those who don't….the first five comments on a piece make a big impact on dwell time, and this continues to increase up until the 50-comment mark." We drove +19% YOY growth in subscribers, from Aug '18 to Aug '19. 
To reiterate, achieving success with a subscription strategy should be driven by the value provided to your readers. Though metered paywalls seem to be commonplace, few publishers have been offering innovative options such as bundling multiple publications into one subscription — or cross-selling to compliment core offerings — or creating diverse content offerings such as podcasts and e-learning. As a leading audience engagement platform, we work closely with our partners to build custom solutions to amplify their growth strategies — whether it is subscriptions or other alternative revenue streams.
Recent Digiday Research reported, publishers expect revenue to return to pre-coronavirus levels in 2021. As a company on a mission to create quality forums for public debate — and to support journalism and publisher sustainability, we want to help drive that growth with quality conversations — because quality conversations not only change user behavior — but are proven to drive impactful business results.